Lisburn man calls for locals to get in peak form for charity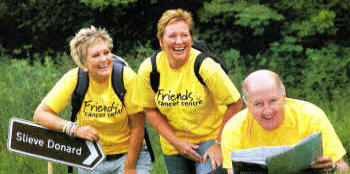 Friends of the Cancer Centre's Chairman Gordon McKeown is pictured taking Sarah Lynas (left) and her mum, Lynne through the route of the Slieve Donard Challenge, ahead of the charity's event this year on Saturday September 8.
FRIENDS of the Cancer Centre is inviting walkers to round off the summer with a friendly trek to the top of Slieve Donard, Northern Ireland's highest peak, on Saturday September 8.
Not only will walkers enjoy the Provinces ultimate 'long view from the high ground', they'll also be helping to fund the official charity of the Northern Ireland Cancer Centre, based at the Belfast City Hospital.
The Slieve Donard Challenge is an exhilarating sponsored 5.5 mile walk, through stunning scenery and constantly changing terrain. At 850m, an ascent of the mountain should be well within the grasp of anyone with a reasonable level of fitness, but it does require some commonsense preparation as well as sensible kit on the day.
"Reaching the summit and enjoying the awe-inspiring view is fantastic, but all our walkers will have another end in sight," said Kelly Graham, Events and Community Fundraiser for Friends of the Cancer Centre. "They are stepping up to the challenge of raising funds to support the local charity which provides timely and meaningful support to thousands of cancer patients and their families every year — and we are hugely grateful for their efforts.
"If ' you aren't a committed walker it may sound like quite a hike, but it's not a race and everyone takes it at their own pace, enjoying the company as much as the views."
Lisburn man Gordon McKeown, Chairman of Friends of the Cancer Centre, says; "I urge local people to join us and give the Slieve Donard Challenge a go. Take up this challenge and you will be doing something practical to help those who are facing a challenge of a very different kind: coping with a cancer diagnosis. Friends of the Cancer Centre makes a real difference to cancer sufferers and their families right across Northern Ireland by funding important research, treatment and patient comforts. For over a quarter of a century the charity has been a 'friend in need' to thousands of people facing cancer: now it needs friends to take part in the Slieve Donard Challenge."
Registration fee for this event is £10 and limited places available. Participants are encouraged to try to raise a minimum of £50 through sponsorship. Under 18s must be accompanied by a parent or guardian. For further details visit www.friendsofthecancercentre.com, or contact Kelly on 028 9069 9393 or info@friendsofthecancercentre.com.
Would-be-walkers can find out more about the 5.5 mile challenge and register at www.friendsofthecancercentre.com or call 'Friends' on 028 9069 9393.
Ulster Star
24/08/2012