Fury over plan to buy high end development for social housing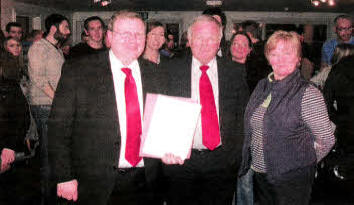 MLA's Jonathan Craig and Trevor Lunn with Councillor Angela McCann who attended the consultation meeting.
RESIDENTS in private housing in the Redwoods area of Dunmurry who paid 'top dollar' for their homes say they are outraged that apartment buildings m the development might be sold for social housing.
On Wednesday evening they held a meeting to discuss the situation with Clanmil, the Housing Association behind the plan. After receiving a letter from Clanmil stating they wish to buy two of the apartment buildings in the development.
One concerned householder, Ian Scott stressed they were not against social housing but against it being forced on them.
"We bought into a private development and paid top dollar for them during the boom. We weren't informed of this idea until the last moment and we really aren't happy with the situation."
MLAs Jonathan Craig and Trevor Lunn and Councillor Angela McCann all attended Wednesday night's meeting.
Mr Craig said the meeting about the proposed purchase of the 92 apartments was packed out with well over 100 residents in attendance.
"Residents left Clanmil in no doubt that they were opposed to proposed development, which they pointed out was not what they bought into and would seriously undermine already depressed housing prices in the Redwoods area" Mr Craig said.
"While I normally support the concept of social housing, it is always with the prerequisite that people living in the area buy into the concept. I have never seen a case where social housing is forced on a existing private housing build being successful. I know of several areas in Lisburn where it happened and in at least one case severe hostility and resentment remains in the area 10 years on."
Mr Craig continued: "It was abundantly clear from the meeting that few if any in the area bought into the concept of social housing in an area they had bought as a private residential development. People were concerned about what it would do to their house values, and were worried that it would upset what is now a settled quiet mixed neighbourhood.
"I will be writing to the DSD Minister, the Chair and Chief Executive of the Housing Association outlining my opposition to this and will attach a copy of a petition that over 160 of the local residents have signed in opposition to the proposal. I appeal for commonsense to prevail and the will of the vast majority of those living in Redwoods to listened to."
A spokesperson for Clanmil Housing said: "Clamnil is committed to increasing the provision of good homes for rent throughout Northern Ireland and is continually seeking opportunities to make available more affordable high quality homes in areas of housing need.
"We are currently in discussion with the developer of the Redwoods housing development in Dunmurry in relation to the possible purchase of 92 unoccupied apartments at the development.
"Given the current economic conditions and difficulties with obtaining a mortgage, the number of people who need to rent their home is continuing to increase. We are therefore eager to bring these apartments, which have been empty for almost three years, into use as much needed homes increase
The Department for Social Development and the Northern Ireland Housing Executive support the planned purchase of these homes as there is a high demand for housing in the Dunmurry area.
"We are currently consulting with local residents is relation to our plans. We are aware that there is an established community at Redwoods and we are committed to building positive relationships and working closely with current residents to address concerns, look at their suggestions for going forward and gain their support for the provision of high quality homes for people who really need them.
"Clanmil has over 30 years experience in housing management. We have almost 3,000 homes throughout Northern Ireland, around 250 of which were purchased in private developments such as Redwoods and where, with our support and that of the local community, our tenants have quickly settled and are a positive addition to the neighbourhood."
jenny.monroe@ulsterstar.co.uk
Ulster Star
23/03/2012