Concert raises money for Soldiers' Charity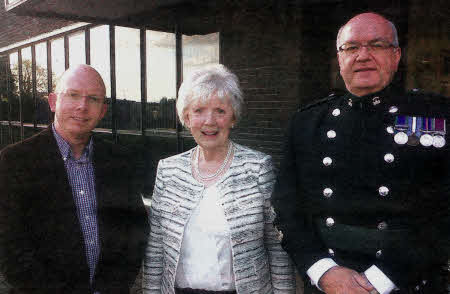 Lord Lieutenant of County Antrim Joan Christie OBE poses with Royal Irish Regiment Bandmaster Chris Attrill and Wallace High School Vice Principal David Cleland prior to a fundraising concert for ABF The Soldiers' Charity.
AROUND 200 Lisburn residents flocked to Wallace High School recently to hear the Royal Irish Regiment Band play, accompanied by the Pipes and Drums, to raise money for ABF The Soldiers' Charity. The audience was also delighted to hear an extra musical treat in the form of Capella, the School's Senior Choir, conducted by David Falconer.
David Forsey, NI Director of the Soldiers' Charity, based in Lisburn's Thiepval Barracks, thanked the Principal and Board of Governors of the School.
It was an excellent night of entertainment, we have been well looked after and the Charity has made about £1500," he said. The RIR Band will appear again at our Diamond Jubilee Concert at the Waterfront Hall on Friday June 22. We encourage all fans of military music to contact the Waterfront Box Office on 02890 334455 before the tickets are sold out."
Ulster Star
05/04/2012