Princess Anne hosts Hillsborough event for SOS Bus volunteers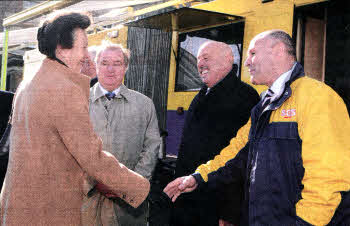 Princess Anne viewed the SOS Bus during her visit. Pictured with The Princess Royal are Stephen Kingon, Chairman, SOS Bus NI, Brian Brown, Director, SOS Bus NI and Joe Hyland, Chief Executive Officer, SOS Bus NI. Photo M T Hurson/Harrisons)
THE Princess Royal hosted a reception in Hillsborough during a visit to the province last week, which saw her undertake a number of engagements.
Princess Anne viewed the SOS Bus in Belfast, before attending a reception for volunteers — and sponsors at Hillsborough Castle
The SOS Bus is an award-winning charity launched in November 2007 based in Belfast. Each bus, one based 'at Shaftesbury Square, and the other at the Odyssey Arena, is equipped with a fully functioning medical centre designed by the Northern Ireland Ambulance Service and crewed by a pro-paramedics team which enables the volunteers to professionally assess and treat clients on-site up to 4am each weekend.
In less than four years the SOS Bus has interacted with over 145,000 people, provided in-depth caring or medical support to over 3,500 who have been damaged emotionally or physically on the streets of Belfast, and saved seven lives.
Moving inside the bus, accompanied by Lisburn man Brian Brown, Director, SOS Bus Northern Ireland and Joe Hyland, Chief Executive Officer, SOS Bus Northern Ireland, HRH met SOS Bus Driver George Grimlay, Paramedic Ann Fitzgerald and Flo Lucas, a mother of a young person who benefited from the services of the SOS Bus, and viewed the facilities onboard.
Later, in the Throne Room of Hillsborough Castle, Princess Anne met a number of funders and suppliers associated with the SOS Bus.
The Princess Royal also met a number of Team Leaders and Volunteers who staff the Bus on a regular basis.
Ulster Star
16/03/2012