`Sound of Music' is a family affair at Lisnagarvey
by JULIE-ANN SPENCE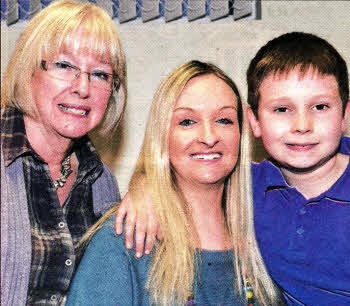 A FAMILY AFFAIR - Grandmother Heather Campbell, Mother Claire Cranston (Campbell) and son Jack Campbell who are all starring in The Sound of Music U51412.405PM Pic
'THE Sound of Music' may be about one big family, but the latest production from Lisnagarvey Operatic Society is featuring several local families who are helping to make up the cast.
Simon Pyper, who brings some light relief to his role as 'Uncle Max, is on stage under the guidance of his father and show director Willie Pyper.
Captain Von Trapp, otherwise known as Tim Pentland, will be joined on stage by his mother Liz and Gillian McQuade, who is taking on the role of Maria, will also be sharing the stage with her mother Kathleen Algie.
But the largest family grouping on stage will be the Campbell family. Heather, who is playing the formidable Mother Abbess, will be joined by her daughters Ruth Hunter (Campbell), who is playing a nun, and ClaireApril 24on (Campbell), who is bringing the Baroness to the Lisburn stage. Claire's son Jack will become the third generation of the Campbell family to take to the stage with Lisnagarvey Operatic, when he becomes Kurt Von Trapp.
It is lovely to have Ruth and Claire in the show," saidUS1412-405PMnd it is particularly nice to have the three generations of the family involved.
"It is a nice experience to be in a show with all of them and to watch their progress is wonderful. I love watching Jack and see how much he is coming on."
Claire explained that Jack, who is playing the sensitive but incorrigible Kurt, is thoroughly enjoying his acting experience. "He is really loving it," said Claire. "He has always loved performing and he is involved in drama groups and is in a choir.
"I started doing roles when I was 12 and I grew up watching my mum on stage," she continued. "I followed in her footsteps and now Jack is doing the same, Its a dynasty!"
The Sound of Music will be staged at the Island Hall in Lisburn from Tuesday Apri124 until April 28 and tickets, priced from £12, are on sale now from the Box Office on 9250 9254.
julieann.spence@ulsterstar.co.uk
Ulster Star
13/04/2012