St Colman's pupils strike gold with visit from Olympian
by JENNY MONROE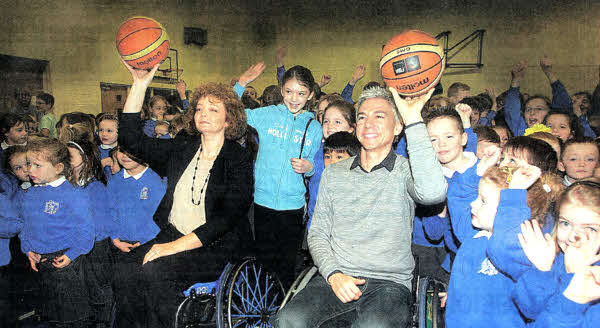 Sports Minister Carál NÍ ChuilÍn and Olympic triple jump gold medallist Jonathan Edwards at St Colman's Primary School where pupil Ellen McDonnell was the 20,000th pupil to take part in the 5 Star Disability Sports Challenge.US0312-114A0 and US0312-115A0
A LOCAL Primary School welcomed an Olympic gold medallist through its gates this week.
St Colman's Primary School, which is currently located on the Blacks Road while its new school is built in Lambeg, was delighted to meet triple jump champion Jonathan Edwards.
The sportsman was joined by the pupils, local paralympic athletes and Sports Minister Carál NÍ ChuilÍn to reveal the news that more than 20,000 children have completed the '5 Star Disability Sports Challenge'.
The Challenge" showcases disability sport m the build-up to the London 2012 Olympic and Paralympic Games and it designed to inspire other disabled and non-disabled children to participate in sport, while positively challenging attitudes about people with abilities.
St Colman's is the latest school to take part in the scheme, which has been running since 2009, and its pupils take the number of participants to the magic 20,000. Principal Mr Gerry McVeigh commented: "Jonathan Edwards along with the young men and women from Disability Sport (one of whom was a past pupil of St Colman's) were such an inspiration to all the children and staff of St Colman's. The joy, fun and commitment to sport at all levels was so evident throughout the morning of their visit. It was a pleasure and a privilege for St Colman's to host such a wonderful event."
The Minister said: "This inspirational programme has excited and enthused children of all abilities and backgrounds in dozens of schools across the North.
"As well as giving children a flavour of Paralympic sports, these young people get to meet elite athletes, hear their stories, ask questions and further their understanding."
During the event, the children heard from Michael McKillop, who won a gold medal in the 800m event at the 2008 Beijing Paralympic Games. Also present were Aubrey Bingham and Johnny McCarthy from the Northern Ireland Knights Wheelchair Basketball Club.
Following the presentations, Disability Sports NI coaches gave the children the opportunity to try out a circuit of five Paralympic sports.
The Minister added were "It is encouraging how much this scheme has accomplished at a grassroots level. The 5 Star Disability Sports Challenge has broken down barriers, raised awareness and had a positive impact in the countdown to the Olympic and Paralympic Games.
"What the pupils of St Colman's have experienced today will resonate with them in the build
up to the Olympics and long into the future."
Jonathan Edwards added: "I've been very impressed with what I've seen today. The presenters
were excellent and successfully used the power of the London 2012 games to engage with the children, to increase their awareness of the games, to improve their understanding of disability and Paralympic sport. I congratulate Disability Sports NI on achieving such an impressive milestone'.
Ulster Star
20/01/2012