St John Ambulance cadet honoured at the Palace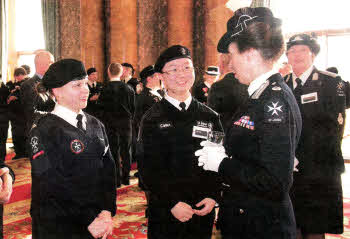 St John Ambulance Cadet Lois Halley (left) from the Lisburn Division of St John Ambulance and her fellow Cadet Chuer Zhang chat to HRH The Princes Royal at a recent reception at Buckingham Palace.
CADET Lois Haffey from the Lisburn Cadet Division of St John Ambulance was invited to Buckingham Palace recently to celebrate her achievements in completing the Grand Prior Award, which recognises her commitment to the first aid charity.
Lois, 17, was recognised by The Princess Royal for completing the award, which is the highest a St John Ambulance Cadet can achieve. She must have shown at least three years of sustained effort studying 24 different subjects including first aid, communication and working in the community.
"Being a St John Ambulance Cadet has provided me with the life saving skills that allow me to be the difference between life and death," Lois said. "I have also been given the opportunity to develop my awareness of other important topics.
Visiting Buckingham Palace and meeting the Princess Royal was an amazing experience and a great way to celebrate completing the Grand Prior Award," she said.
District Youth Officer, St John Ambulance Northern Ireland, Yvonne McCartney commented: "We believe that all young people should have the chance to learn first aid. Lois has worked hard and shown her dedication to St John Ambulance. The Palace Reception is a perfect way to recognise their achievements."
Approximately 84 young people were invited to the Palace to represent St John Ambulance from across the country. Each county selected just two Grand Prior Award winners for their outstanding contribution and commitment. Lois travelled to the reception with her fellow Cadet Chuer Zhang.
Ulster Star
04/05/2012