St Patrick's pupils meet TV's unlikely star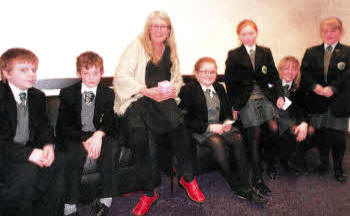 Cambridge Professor of Classics Mary Beard with pupils from St Patrick's Academy, Lisburn.
PUPILS from St Patrick's Academy Lisburn have met one of television's most unlikely new stars - Cambridge Professor of Classics Mary Beard.
St Patrick's is one of the few schools in the United Kingdom to offer Classics and Latin as a curriculum choice for first year pupils.
The Lisburn school successfully bid for a grant from the 'Friends of the Classics' and pupils have been studying the four main areas of Classical Civilization, Mesopotamia, Egypt, Greece and ancient Rome. The school has been working with Cambridge University in delivering this course.
So when Professor Beard - who has received rave reviews for her BBC2 documentary series called 'Meet the Romans' - visited Northern Ireland recently as part of the BBC History celebration she had heard about St Patrick's pupils and invited a group to have a private meeting during which they quizzed the Cambridge Don on all aspects of Roman life.
Among the questions the Lisburn pupils put to the noted academic were: 'Did poor ancient Romans have toilets? Did women have jobs in ancient Rome? How much did normal people get paid? Did the Romans have schools?"
Pupils were alternatively delighted, surprised, saddened and disgusted by the realities facing everyday people in ancient Rome.
You can learn more about the Romans from Professor Beard in her BBC2 Documentary 'Meet the Romans' which airs on Tuesdays at 9pm.
Ulster Star
11/05/2012