Camera crews roll into town to meet local entrepreneurs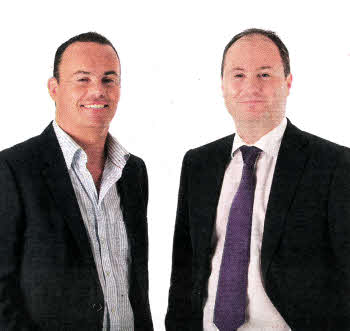 Stuart and Russell Dickson from Decora Blind Systems
AN air of excitement filled corporate boardrooms in Lisburn this week as RTE camera crews rolled in to town to film this year's installment of the 'Ernst & Young Entrepreneur Of The Year — Meet the Finalists' series...
This ever-popular, annual celebration of entrepreneurship will feature two of Lisburn's most successful and inspiring entrepreneurs as they bring viewers on a virtual tour of their thriving workplace to demonstrate the unparalleled degree of dedication and commitment it takes to lead and grow a successful business on the global stage.
Stuart and Russell Dickson, of Decora Blind Systems in Lisburn, spent a number of days filming the entertaining and enlightening episode with Series Presenter and Chairperson of the Judging Panel, Padraig O'Ceidigh.
The airline executive, winner of the Ernst & Young Entrepreneur Of The Year title in 2002, spoke with these inspirational innovators about their exciting enterprises and the immeasurable level of tenacity, technical ability and ground-breaking innovation' required to reach the fmal stages of this prestigious, annual business awards programme.
However, as the saying goes, 'all work and no play makes for a dull life' and the team from RTE spent a fascinating day in the company of this year's Lisburn-based finalists.
Brothers and business partners, Stuart and Russell Dickson, who share a serious passion for golf, brought Padraig out for a relaxing round on of their favourite courses at Malone Golf Club in Belfast.
The series, which comprises five episodes, can be viewed on RTE One this October and will culminate in the televised, Gala Awards Ceremony which will be screened on October 25.
Ulster Star
28/09/2012