NOW THEY'RE EVEN STEALING CHURCH GATES
`Nearly every house in my congregation would have a tale to tell about theft'
by JULIE-ANN SPENCE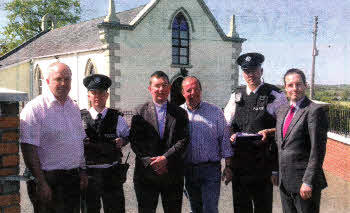 L-R Alderman James Tinsley, Constable Meehan, Rev Angus McCullough, Robert Martin, Constable Johnston and Paul Givan MIA.
THE congregation of Magheragall Parish has been left shocked and saddened this week after thieves stole their church gates in the latest in a series of rural crimes.
The gates, which were erected just last year as part of a refurbishment project, are valued at E6,000. Their theft, which police believe occurred during the early hours of Wednesday morning (May 23), has come as a major blow to the rural community and the minister, Rev Angus McCullough has urged anyone with information to contact the police. "This has caused great distress and shock," he said. "It is hard to believe that someone would do this."
Rev McCullough said there had been a dramatic increase in crime in the area in recent months with many public buildings including the Orange Hall and local primary school being targeted.
"Nearly every house in my congregation would have a tale to tell about theft," he continued. "In the last while all the public buildings have been targeted. Back in February we had an oil theft at
the church and several other buildings had their oil stolen as well.
"I have been here for over seven years now and had no incidents and then in the last few months there have been two major incidents for us, as well as people prowling around the church at night.
"We are a very isolated church and people could be here in the middle of the night without fear of being disturbed.
"It is a concern that all public buildings in this area are being targeted on an ongoing basis.
There will be a lot of sadness in the community that this has happened and I despair at what is happening in our society that there is no respect for what the church represents.
A second incident of rural crime was also reported in recent days, following the theft of heating oil from a tank at Ballycarrickmaddy Primary School.
Local politicians have condemned both incidents.
"These two instances of rural theft are shameful and I condemn those who are responsible," said Lagan Valley MLA Paul Givan. "These gates have been in place for less than a year as part of building work carried out and had a value of approximately £6000, which for a small rural church congregation is a considerable sum of money.
"Those responsible should be ashamed of their actions," he continued. "Sadly, in the present climate, many communities are targets for those who wish to carry out an opportunistic crime by stealing and reselling metal.
The Church Hall this week was also broken into and I would appeal to local people and those that use this road to report any suspicious activities to the police.
Killultagh Councillor James Tinsley added: "I am extremely angered and condemn those responsible. Both scrap metal crime and the theft of heating oil are unfortunately very common in rural areas.
It is regrettable that in this type of crime sourcing the product or perpetrator can be almost impossible but recent changes in legislation has led to the police being able to apprehend some individuals which is to be welcomed.
The Police have assured me they take rural crime seriously and I would appeal to people to keep a neighbourly eye on schools and churches in rural areas which are often in isolated locations," he concluded.
Ulster Star
25/05/2012