Be 'meningitiswise' local woman urges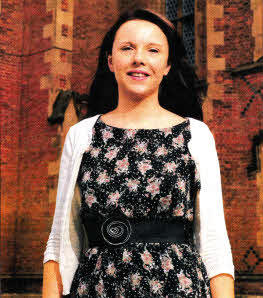 Stephanie Annett
A LISBURN woman is encouraging her local community to Be MeningitisWise during Meningitis Awareness Week and know the symptoms of meningitis and septicaemia as she has first-hand experience of the disease.
Meningitis Research Foundation (MRF) says that meningitis and septicaemia affect around 3,600 people in the UK and Ireland annually. They are deadly diseases that can strike anyone without warning, killing one in ten, and leaving a quarter of survivors with life altering aftereffects ranging from deafness and brain damage to loss of limbs.
Queen's University student, Stephanie Annett from Lisburn had meningitis when she was 16. "I felt really ill but no one knew what was wrong at first," she explained. "Thankfully I got the treatment I needed just in time. I was able to continue my pharmacy studies, but not everyone is so fortunate."
Stephanie is now a Pre-Registration Pharmacist and hopes that by raising awareness, lives will be saved.
MRF explored the impact of the diseases in its project 'Counting the Cost of Meningitis' and estimates that the life-long costs to the UK Government of medical treatment and ongoing care for a person seriously disabled by the disease are around £3million.
As a result the charity launched a petition last year calling on the UK Government to pursue the widest and earliest implementation of vaccines to prevent all types of meningitis and septicaemia.
Diane McConnell, Northern Ireland manager of MRF said: "There is currently no vaccine for meningococcal B disease which is responsible for the majority of cases of disease in the UK and Ireland. Nearly 18,000 signed our petition and this week it has been presented to 10 Downing Street, so thank you to everyone who supported us.
"However we must remember that vaccines do not prevent all strains of meningitis and septicaemia yet, so it's vitally important that the community in Northern Ireland are MeningitisWise and remain aware of the symptoms."
To find out more about the symptoms visit the MRF website on www.meningitis.org or download the iPhone App from: www.bit.ly/MRFapp
Ulster Star
21/09/2012