Local man wades in to rescue stranded swans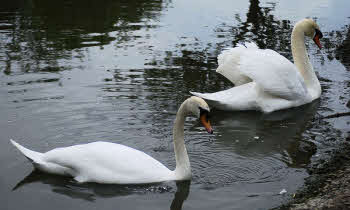 A BRAVE local man came to the rescue last week to free two stranded swans at Duncan's Dam, Lisburn after they had been there for five days.
Julieanne Moore, from the Moira Road area, spotted the pair on Monday April 16 as she walked her Border Collie Alfie.
Her concern grew when the swans were in the same place the next day and by Wednesday she contacted organisations such as the USPCA, the PSNI and Lisburn City Council to get help for the animals. She was told no-one could help but a fellow dog walker to whom she had expressed her concerns waded in himself and lifted each bird from where they were stranded, before placing them back onto the lake.
Julieanne, who is a member of the Ulster Wildlife Trust, explained: "I walk my dog at Duncan's Dam most mornings and on Monday morning I noticed the two swans under the bridge. When I went back on Tuesday they were still there and I thought that was a bit strange.
"On Wednesday they were still there and I thought they were obviously stuck.
'They seemed a bit distressed so I phoned the USPCA first and then I phoned the PSNI.
"I didn't get much of a response from anybody and on Thursday I phoned again, although it was very difficult to get anybody to say they would even come."
The local woman even tried to feed the swans herself, however she was unable to reach them. My sister and I took food out to them but we couldn't reach that far.
"One was not eating anything at all, I think it was just too stressed out.
"I was really starting to get worried about the birds," said Julieanne.
"I didn't want them there over the weekend because kids go up there.
I told another guy who walks his dog about it and on Friday he went home, put on his wellies and got them out.
"He knew they were getting distressed as well, so he released them.
I asked him if he was not scared, but he said he was more worried because they are a protected species and he was concerned that he would harm them. They were quite weak by this stage.
"The area they were in is quite overgrown and is difficult to get to.
"You have to go over a fence and through the undergrowth, there's about a four foot wall, it's not an easy thing to do and the guy had to lift each one over, one at a time, before he put them onto the lake.
"I can't thank him enough, it was nice to have somebody help.
He was the only person who went in and had the courage to do it.
After a couple of days the pair of them had flown off, so they had obviously regained their strength." A USPCA spokesman said he was unaware of the circumstances of this case, however, he added: "I presume that the woman spoke to a welfare officer. "Very often if a creature is not injured and in no apparent danger, usually they will free themselves. We appreciate members of the public helping animals.
If an animal is injured report it to us or if you can get it to a vet, the vet can contact us and we will make a contribution toward its treatment.
"If an animal is injured or in imminent danger, by all means contact us," he added.
stacey.heaney@ulsterstar.co.uk
Ulster Star
27/04/2012