Lisburn students set to fly flag in the United States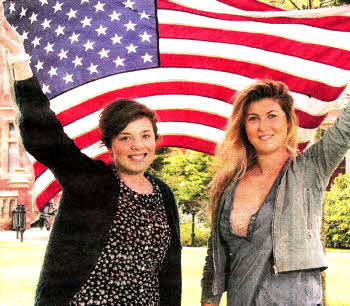 Lisburn students Kelly Stewart and Holly Eastwood have been selected to study for a year In the US through the prestigious Study USA programme.
LISBURN students Kelly Stewart and Holly Eastwood have been selected to study for a year in the US through the prestigious Study USA programme.
This week Kelly and Holly received last minute advice and information at the induction orientation in Belfast, before preparing to spend a year in the US.
Kelly, who is currently studying BSc Business Studies at University of Ulster, will be going to Edgewood College, Wisconsin, whilst Holly, who is studying BSc Business Management at Queens University Belfast, is going to Kansas Wesleyan University, Kansas
The British Council, which is the UK's international organisation for educational opportunities and cultural relations, manages Study USA on behalf of the Department for Employment and Learning (DEL). The students will study business & management for a year in American colleges, across 32 States, where they will gain valuable international experience and business knowledge which will help to develop their management and leadership skills for their return to Northern Ireland and future careers.
The two students are part of a group of 72 Northern Ireland students who were chosen for the scholarships after undergoing a competitive selection process to take part in the prestigious programme. Around 250 students from all colleges and universities in Northern Ireland had applied for the programme earlier in the year.
Karen McCormack, the British Council Study USA Programme Manager has just come back from _ a job exchange with Kansas Wesleyan University. She commented: "I am sure that Holly will find the people in Kansas to be very warm, friendly and welcoming. They really want to know more about our culture and life in Northern Ireland. While I was there I was often invited to speak about Northern Ireland and day-to-day life. I found them to be genuinely interested and keen to find out more about our cultural differences and similarities."
Speaking about the programme, David Alderdice, Director British Council Northern Ireland stated: "We know that the students departing for the US this year will be great ambassadors for Northern Ireland and will help to further long-term links and connections between our two countries.
"The students will have the opportunity to learn from leading experts in their field and their future employability will be enhanced through internships, Ambassadorial presentations, and volunteer work in a really international context. Most importantly, our students will build links with counterparts in the United States that will last a lifetime."
Ulster Star
13/07/2012