Inspirational swimmers raise £3000 for Marie Curie charity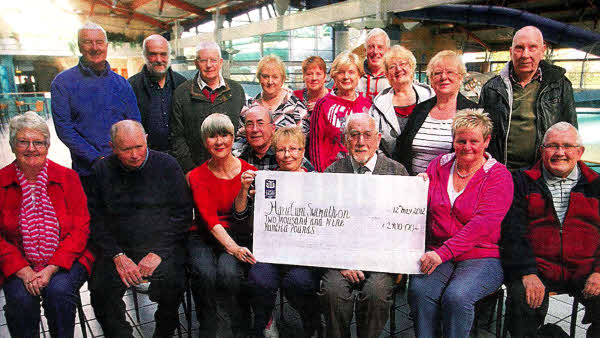 Nevin Mitchell and friends who took part in the recent Marie Curie Swimathon to raise £2,900 for charity. His wile died at Christmas from cancer and money was raised in her memory. US2012.113A0
A KEEN swimmer who is just 85 years young gathered together some of his friends and made a splash to raise money for Marie Curie.
Nevin Mitchell from Ambleside Crescent and his swimming chums swam 30 lengths at the Leisureplex as part of the swim-athon in April and raised an amazing £2,900.
Nevin's wife Anne died of cancer on Christmas Day, just three weeks after being diagnosed with an aggressive form of the disease in her liver and kidneys.
Though she had only been in the hospice a short time before she passed away Nevin said he would never forget the kindness the staff shown him and his family, Nevin, who has been a keen swimmer for 20 years, took up the sport to help ease the pain of his arthritic knees.
He decided to ask some of his friends if they would take part in a swim which would help raise money for the charity
"I wanted to so something for Marie Curie to pay them back for the help they gave my wife, he said.
Nevin gets up at 6.45 to head to the Leisureplex three times a week.
"I love swimming because it keeps you fit and it helps my knees," he said. "I took it up some years ago and before I swam would have taken four pain killers. Now I don't need any. I might as well swim while I still can.
"I swim with a great bunch of people. I love the craic," he said. "We have a great laugh and great chat. They are really lovely people. Sometimes there's little time left For swimming because of all the talking that we do."
Nevin said he would like to thank all those who took part, especially Helen who helped him set it up.
I cannot thank Helen enough for her help and would also like to thank all my friends too," said Nevin
Phil Kane, Community Fundraiser, Marie Curie Cancer Care said, "Our charity is delighted with the effort that Nevin has made in raising £2900 through his participation in the Swimathon event.
"We had the pleasure of meeting up with him and his group of friends at the. Leisureplex when they did some pre-event publicity for us. They were truly inspirational."
Ulster Star
18/05/2012