New Ulster record for Bethany in Luxembourg meet
Locals meet star Ian Thorpe
SWIMMING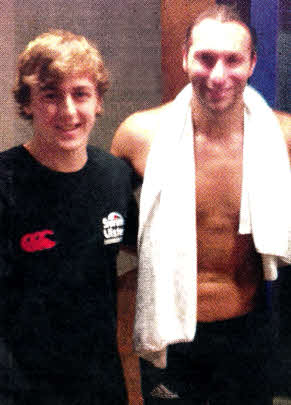 David Thompson who trains with Invictus Swim Club Belfast pictured with Olympic legend Ian Thorpe during the recent Luxembourg Euro Meet. The young Hillsborough swimmer competed during the three day event as part of the Ulster Squad team.Costa Concordia at Barcelona.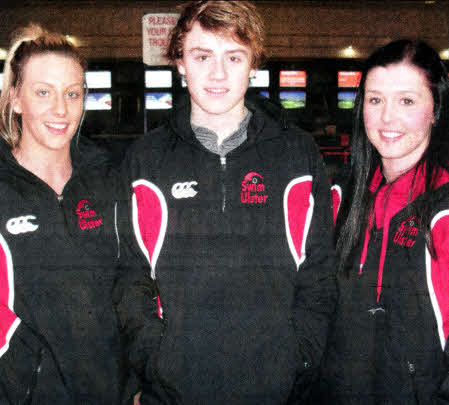 Bethany Carson, Peter Sands and Rachel Smyth.
LISBURN City Swimming Club and Ulster Squad members Bethany Carson (20), Rachel Smyth (16) and Peter Sands (15) have just returned from the long course Luxembourg Euro Meet where five times Olympic Gold Medallist Ian Thorpe was also competing along with Caitlin McClatchy and Amy Smith from the GB Olympic team.
This meet was an Olympic qualifying meet and there were commonwealth records, national records and Olympic qualifying times achieved. The swimmers were part of a 20 strong Ulster Squad Team who travelled to Luxembourg on Thursday, January 26 and also included Friends School pupil David Thompson who trains with Invictus Swim Club, Belfast.
Bethany Carson had a fantastic competition. She swam out of her skin in the 100 butterflyto claim a bronze medal in a new time of 1.00.84 which also set a new Ulster Senior Record, breaking the old record by 1.2 secs and just 0.3 secs outside the same record set by Michelle Smith in the 1996 Olympics.
Beth also claimed bronze in the 200 freestyle event. Beth had Caitlin McClatchy from the GB team on one side and the European Champion Silke Lippok on the other side but Beth held her own and did Lisburn and Ulster proud. She also swam the 100 freestyle and finished 8th in the final. Overall, Beth had 5 pb's which proves her move to Dublin to train full time in the High Performance Centre is paying off and this brings her one step closer to achieving an Olympic qualifying time as part of the National Relay Team.
This was the first time for Lisburn Club Captains Rachel Smyth and Peter Sands to attend such a high level' competition and they made the most of the experience. Rachel and Peter didn't taper (ease off on training to peak at a competition) for this competition as they are in the middle of a training cycle for Irish competitions coming up in the next few months. Rachel was in the Open category which is swimmers born 1995 and older. She managed to swim in and around her pb's which is a good sign for the rest of the season.
Rachel swam the 50 butterfly in 30.53 and was first reserve for the semifinal. She qualified for the B final in the 100 butterfly in a time of 1.08.83 which is just outside her pb and finished 20th overall in the Open category. She swam a new pb in the 100 free of 1.01.89 and had a good 200 free swim at the start of the competition in 2.14.61. Rachel's highlight of the weekend was getting her picture taken and chatting with Ian Thorpe and chatting to Amy Smith and Caitlin McClatchy from the GB team.
Peter Sands was in the Youth category which is swimmers born 1996 or younger. Peter is still training to get back to full fitness after a long bout of illness just prior to Christmas which saw him taking quite a bit of time out of the water but he is making good headway and this was his first time in a 5the Youth since July last year.
Over the course of the weekend, Peter swam 400 free, 200IM and 400íM which saw him achieve 10th place in the Youth category in each of these three events. He swam the 200 backcrawl in 2.21.85 to finish in an excellent 5th place and 200 free in 2.10.34. Peter was close to his pb's in a few events and was very happy with his overall performances.
The swimmers are now even more inspired to continue their hard training in and out of the water with Beth hoping to get closer to that Olympic qualifying time and Rachel hoping to achieve a qualifying time for the Irish Squad and British Youth Championships in July. Peter is concentrating on getting back to full health and make up for the time lost in the water earlier in the season.
Ulster Star
03/02/2012