Getting a taste of your history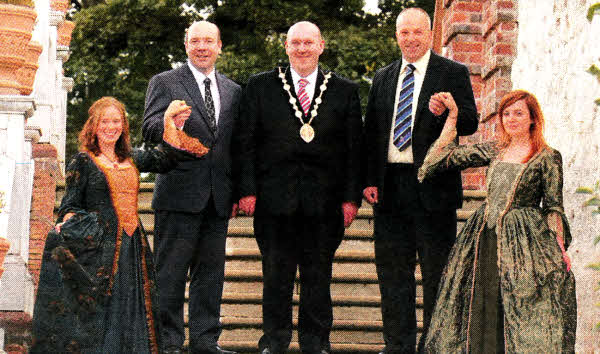 Promoting European Heritage weekend at the restored Castle Gardens in Lisburn City, one of the historical sites featured in the European Heritage Guide, are (I-r) Angela Kerr, Irish Linen Centre and Lisburn Museum; Councillor Paul Stewart, Vice-Chairman of the Planning Committee, Lisburn City Council; the Mayor, Alderman William Leathem; Alderman James Tinsley, Chairman of the Planning Committee at Lisburn City Council and Gillian Topping, Irish Linen Centre and Lisburn Museum.
WITH European Heritage Open Day taking place over the weekend of September 8 and 9 across Northern Ireland, the Chairman of Lisburn City Council's Planning Committee, Alderman James Tinsley, is keen to ensure that residents are aware of the heritage properties and events that can be visited in the City area.
Among the Lisburn locations are the beautifully restored Castle Gardens, a number of buildings in the City Centre, Hillsborough Castle, Courthouse and Fort, Kilwarlin Moravian Church near Hillsborough, the former Home Farm located in Hillsborough Park, Ballinderry Middle Church and Ballinderry Moravian Church as well as the Ballance House outside Glenavy and the Parish Churches at Derriaghy and Drumbeg. A special Lisburn City Centre walking guide listing the participating buildings is available from Lisburn TIC.
Mr Tinsley said: "I would commend the Northern Ireland Environment Agency for promoting European Heritage Weekend and I encourage people to get out and about and avail of this opportunity to see a piece of living history, which may be just round the corner from where you live or work.
"It is particularly important for the younger members of society to appreciate the care and attention provided to ensure that sites of historical significance and beauty go on to the next generation for them to appreciate also."
Vice Chairman of the Planning Committee, Councillor Paul Stewart, said: "Details of the heritage properties and events can be found on discovemorthernireland.com/ehod and there are plenty of places to visit right across Northern Ireland.
A number of beautiful churches in the City area are listed in the European Heritage brochure which is available to view online. These include churches in Lisburn such as First Lisburn Presbyterian, Railway Street Presbyterian Church and St Patrick's Church. Also listed is Castle House, the former residence of Sir Richard Wallace and tours of the former Cathedral Rectory in Castle Street will be available. The CWU Hall in Market Street will be open as will the former Market House now the home of the Irish Linen Centre and Lisburn Museum
"This forthcoming weekend is sure to offer up a wealth of history wherever you may end up exploring," said Mr Stewart. On Saturday, September 8, as part of European Heritage Open Day, the Irish Linen Centre and Lisburn Museum present a free 25 minute extract from the play, Meeting Lord Carson for the First Time, by acclaimed actor Paddy Scully at 1.30pm in the Assembly Rooms of the Irish Linen Centre and Lisburn Museum.
Details on places to visit for European Heritage Weekend can be found on www.discovernorthernireland.com/ehod
---
Heritage Month in Lisburn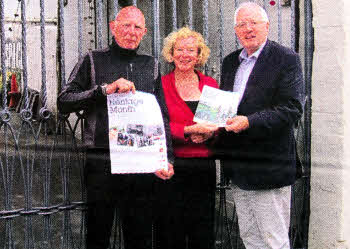 Ald Allan Ewart, Anthea McWilliams and Robert Martin at the current R-Space exhibition which ends this Friday.
THIS September Lisburn once again celebrates its past with a series of historic and heritage walks, talks, displays and events.
Lisburn City Centre Management have teamed up with R-Space Gallery, Lisburn City Library, Frock Around the Clock, War Years Remembered and others to develop a great programme of activities.
Alderman Allan Ewart, Chairman Lisburn City Centre Management commented: From the Ulster Covenant exhibition at Market Square on September 8 where people will have the opportunity to learn about the leaders 100 years ago and sign their own copy right through to Frock Around the Clock's Vintage Fair in Castle House on September 22 this festival offers something for everyone in Lisburn City Centre. Our partners are also delivering exciting talks, tours and films details of which are in the Heritage Month brochure."
European Heritage Open Days (EHOD) also take place on September 8 and a walking tour of buildings participating in Lisburn City Centre is available so that the people can take a look inside some of the historic buildings in their city. The open days and exciting Ulster Covenant exhibition provide an excellent opportunity to celebrate Lisburn's heritage.
Anthea McWilliams, R-Space said: "At R-Space we are excited about taking part in Heritage Month and will be open for the people of Lisburn to take a look inside with tours at 11am and 2pm on Saturday 8 as part of EHOD. We are also hosting our first Blacksmithing Workshop on Saturday, September 22, which will be facilitated by Eamon Higgins who, along with Stephen Murphy, designed and crafted the new R-Space gates. On Wednesday, September 26, Michelle Stephens will be delivering a creative weaving workshop from 10am-4pm."
Spaces on both workshops are limited and can be booked by calling Anthea at R-Space on 07980 494 063. The Heritage Month programme and EHOD City Centre guide can be downloaded from www.lisbumccm.co.uk or picked up from Lisburn -Tourist Information Centre in Lisburn Square.
Ulster Star
31/08/2012