PAY YOUR OWN WAY
Call For Councillors To Pay Own Way At £150 A Head Bash
by JENNY MONROE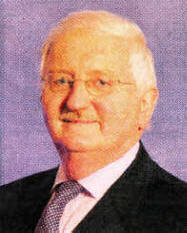 Councillor Ronnie Crawford
A LISBURN councillor has criticised his colleagues for agreeing to take 20 seats at the Lords Taverners Northern Ireland Waterloo Ball in May at £150 a head and suggested anyone wanting to go should stump up for the tickets themselves.
A proposal by Deputy Mayor Alderman William Leathem to take two silver tables at a cost of £1,500 per table and accommodating 10 persons per table was seconded by Alderman Jim Dillon at a recent meeting of the Council's Corporate Service Committee.
However at Tuesday night's meeting of the full council Councillor Ronnie Crawford proposed that anyone going to the event should pay the cost themselves. However his proposal fell when no other councillor supported it.
Mr Crawford explained: 'The Lords Taverners do a great work for various charities and raise enormous sums much of which is directed to the benefit of children and well is worthy of councillors' support.
"However I felt that given our present economic straits, with the council about to impose a double inflation rates increase, businesses closing weekly, increasing dole queues, fuel poverty, negative equity and people standing outside city centre churches for free food parcels, it would be totally inappropriate for those ratepayers to fork out £150 per head for 20 councillors to attend this function. "Consequently I proposed that councillors pay the £150 per head out of one of their own income streams.
"Predictably there was not one councillor to second my proposal which highlights the fact that like the Assembly there is no effective opposition in the Council Chamber to the DUP/Sinn Fein domination."
Speaking about his proposal that the council take tables at the event Mr Leathem explained that the Ball is run in conjunction with Castlereagh Borough Council. As Lisburn and Castlereagh Councils are due to merge in 2015, with the new Council being elected in shadow form in 2014, he said the Lord's Taverners have approached Lisburn Council and invited them to support the event, with the aim of gaining support to retain the event in the Council's area from 2014 onwards.
He said: "The Council is keen to support and retain this major charitable event, given its high profile, the number of visitors that it will attract to the City and the vast amount of money raised for local charities in one evening.
"Whilst we support some very worthy charities we are still very stringent with finance of Council and have the third lowest rates in the province and the lowest city for rates. We believe this charity does great work and we hope to be able to bring this event to Lisburn which will bring huge benefits to Lisburn both for businesses and some of the most vulnerable people in Lisburn."
Ulster Star
02/03/2012