Special Lisburn train service for Tennent's Vital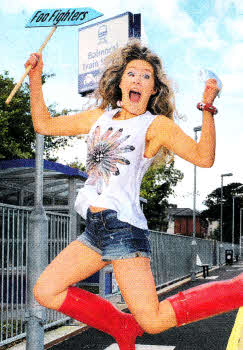 Foo Fighters fan Rachel Marrinan encourages festival-goers heading to this year's Tennent's Vital in Boucher Playing Fields
TRANSLINK is providing a special train service for music fans travelling from Lisburn to see performances from rock stars Foo Fighters and The Stone Roses at Boucher Playing Fields on August 21 - 22.
With around 70,000 fans expected at the Tennent's Vital two-day festival, Translink and the PSNI are encouraging people to use rail travel including special late night return services to get safely home. Special late night trains will run from Balmoral' Train Station to Lisburn from 10.45pm until 12.45am subject to demand. Translink 's Louise Scott said using the special services will be a hassle-free way to get to and from the concerts.
"Boucher Playing Fields is situated very close to Balmoral Train Station, making public transport a sensible choice to avoid congestion and car-parking" she said. "Special return tickets are now available to buy online and from main stations with prices from £5 - £15. The service will also stop at Finaghy, Dunmurry, Derriaghy, Lambeg and Hilden," said Louise. Superintendent Nigel Goddard said: "Police would encourage those who are planning on attending the concerts to plan their journey in advance. Designated car parking has been allocated at the King's Hall Complex; however, traffic congestion is anticipated in the area, given the volume of people attending.
"Officers will be enforcing traffic laws. I would strongly advise anyone who is planning on driving to the event to park their vehicle legally and to ensure that it is not obstructing the driveway of a residential property. Also, if you are planning on drinking at the concert, do not drive. It only takes one drink to impair your decision making ability. The only right decision is to leave the car at home if you're drinking."
To book Translink's special Tennent's Vital train tickets or for further festival travel information click www.translink.co.uk/tennentsvital or call 028 90 66 66 30.
Ulster Star
10/08/2012