Tesco shows off its new look in Lisburn

Lisburn Deputy Mayor Councillor Margaret Tolerton pictured with staff of Tesco Bentrim Road at the re-opening of the store after a major refurbishment.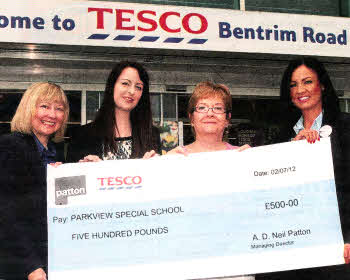 As part of the refurbishment works, Patton working alongside Tesco have made a donation of £500 to Parkview Special School to help fund a music project for the pupils. The cheque was presented to Principal Una Brennan by Tesco Store Manager Nicola Finlay, Community Champion Ann Broom, and Patton Community Engagement Coordinator Lauren Neeson, during the store re-launch. US2712-113A0
THE Tesco store in Bentrim Road opened its doors to the brand new Tesco Taste Northern Ireland look this week. The local store has been chosen as the first in the province to showcase new signage featuring the local people and places behind more than 90 Northern Ireland companies which supply Tesco and its shoppers.
Tesco say the new look is a demonstration of their ongoing commitment to offering customers the widest possible range of locally sourced products.
Store Manager Nicola Finlay said the refresh has resulted in an even better shopping experience for customers and the opportunity to buy quality Northern Ireland produce from an increased number of local suppliers.
Originally opened in 1999, and ranked in the top three Tesco stores in Northern Ireland, Bentrim Road employs 450 staff at the store which was officially opened by the Deputy Mayor of Lisburn, Councillor Margaret Tolerton. Mrs. Tolerton congratulated staff and she said she was pleased that Tesco had confirmed its commitment to the Lisburn area.
A number of departments, including grocery, bakery and household now boast enhanced ranges, with the meat counter coming in for special attention.
In addition to supporting local farmers, much. of the beef, lamb and turkey on display come from Primacy Meats' family farm in Newtownards, where produce is fully traceable and beef is hung for a minimum of 30 days to ensure taste and tenderness.
Also new to the local Tesco food shelves are freshly made sandwiches from Belfast-based company, The Brunch Box.
The Lisburn store already stocks produce from local companies such as WD Irwin and Sons, Wilson's Country, Gilfresh, Dale Farm, Tayto and Coca Cola Hellenic (the local bottling company for the Coca Cola brand, based in Lisburn).
The Lisburn store has also updated its IT system to 10 ensure an even more efficient experience at checkout.
Nicola Finlay said: "We look forward to welcoming our customers to their new-look store over the coming weeks and we hope they will enjoy getting to know more about our fantastic array of local food and drink and the local producers who bring them to us."
Ulster Star
06/07/2012