Mum pleads for return of dead son's pictures
by MARY MAGEE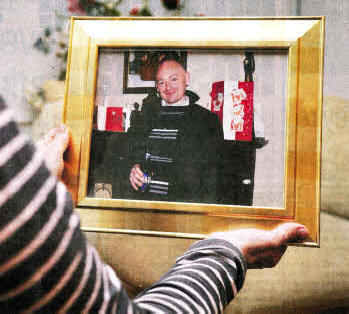 Theresa Lavery with a picture of her late son US0412-409PM-Pic by Paul Murphy
A CRUMLIN mother who lost both her 31-year-oldUS0412-409PMband is making a heartfelt appeal to thieves who broke into her Landgarve Manor house last week and stole pictures and videos of them to return them.
Theresa Lavery is asking for help from anyone who can assist her to recover her daughter's Apple laptop which was stolen during the burglary and contained the only copies of pictures and videos of her son Martin jnr (31) and others of her husband Martin snr.
Martin jnr died suddenly in December 2010 while her husband Martin snr was shot Martin jn a sectarian shooting at his Upper Crumlin Road home on December 20, 1992 as he wrapped Christmas presents while his then five year old daughter sat on his knee.
The laptop was taken around teatime last Monday (January 15) during the break-in and it contains precious family photographs and videos which they desperately want returned.
Theresa said her daughter Danielle (24) had been working on a family montage on her computer for a year and had wanted to give it to her, brother Patrick and sister Therese as a souvenir of their time together.
But last Monday thieves robbed the family of that when they broke the lock of the kitchen door to gain entry to their Landgarve Manor home and then ransacked the rooms. They made off with a 42" television and when they got into Danielle's bedroom stole the computer.
"My daughter had been collecting pictures and videos and had been working on this for over a year," said Theresa. "The thieves took other stuff but that was the only thing we were really concerned about."
Theresa had left her house at 2:30pm for work and returned at 10.30pm to make the shock discovery.
"These pictures mean the world to me and we do not have copies of them and did have a back up," said Theresa. "Danielle had worked on that project for over a year and was very proud of it. We were all going to get copies. Now it is all gone. She hoped to give it out to her family. There are photographs of Martin as a child right through until he was an adult and they were all very precious to us.
"We do not care about the other stuff but what is in the computer is something that you cannot replace. We would appeal to the thieves just please, please give it back. That is all we ask.
"This has really upset the whole family. We are just devastated."
Eye witnesses say that they noticed a white van near a lane near the house last Monday.
Ulster Star
27/01/2012