Take the TinyLife challenge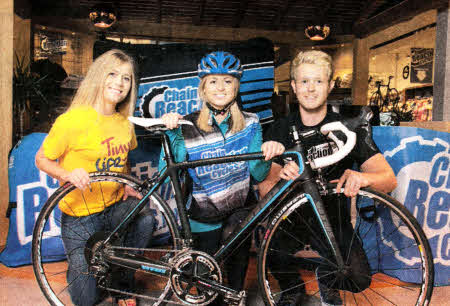 Andrea Milligan, Event Organiser, Kristin Jameson, Marketing Manager AutoLine Insurance Group and Chris McGrath from Chain Reaction.
TINYLIFE, the local premature baby charity, has launched Cycle Challenge event which takes place on the Portadown to Newry Towpath on Sunday September 23.
This year TinyLife will team up with multi award winning company Chain Reaction to deliver the event. Simon Cordner, PR Manager Chain Reaction Cycles said: "We are delighted to support the TinyLife Towpath Challenge 2012. We're excited to be involved with such a great event, supporting a local charity that does invaluable work."
The TinyLife Towpath Challenge has been set at 9, 20 or 40 mile. The 9 mile route stops at Scarva Tea Rooms, 20 miles has the option of going all the way to Newry or you can cycle to Scarva and back to Portadown and the 40mile is to Newry and back to Portadown. Lunch will be provided in the Olive Tea Rooms in Newry. It costs £10 to register and a minimum of £50 in sponsorship. 16 and under is £5 registration and a minimum of £30 in sponsorship.
Andrea Milligan, Event Organiser, said: "This is the perfect outdoor challenge that suits all abilities. This event has grown each year in popularity and with our main sponsors, Chain Reaction on board this year we hope to attract even more participants. TinyLife is a small local charity, supporting families throughout the province and with your help we can continue our invaluable support service."
Ulster Star
31/08/2012