Lisburn Cadet instructor is honoured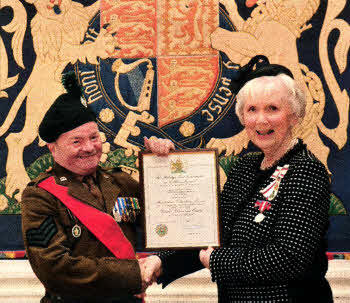 Sergeant Instructor Titch Hughes receiving his Lord Lieutenant's Certificate from Mrs Joan Christie, Her Majesty's Lord Lieutenant for the County of Antrim.
LISBURN man 'Titch' Hughes has been honoured at a ceremony at Hillsborough Castle, receiving one of the highest accolades that can be conferred on members of the Reserve Forces and Cadet movement.
Titch, who is a Sergeant Instructor with the Army Cadet Force, was presented with the Lord Lieutenant's Certificate for Outstanding Meritorious Service Above and Beyond The Call of Duty — an award which is second in importance only to one presented by Her Majesty The Queen.
The Citation which accompanies his award congratulates one of the great characters of the Army Cadet Force, recognising his commitment and service as well as the affection in which he is held by the young people he inspires and trains.
The Citation states: "Sergeant Instructor Hughes is one of the most reliable and dependable of adult staff.
"He is also an actively involved member of the Royal British Legion as a Standard Bearer and fundraiser.
"Sergeant Instructor Hughes is one of the best loved and respected characters in his Battalion, at the heart of all aspects of the Battalions life. "He is an exceptionally dedicated, loyal and industrious member of the Army Cadet Force and an inspiration to all who serve with him."
Ulster Star
08/06/2012