Schnauzers George and Zev are 'top dogs' at Crufts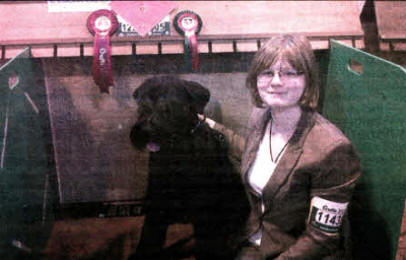 Emma Willis with Irish Champion Jannem Boy George, 'George' a Giant Schnauzer from Lisburn who won a first at Crufts in the Good Citizen Dog class. Emma and her mother Angela's other schnauzer 'Zev' Jannem Munire was first in the Limit Bitch class.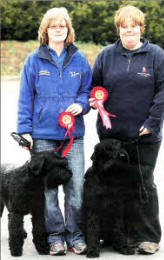 Angela Willis with daughter Emma and their dogs George and Sev who were successful at Crufts. US1212-132A0
THEY say every dog has their day and that was certainly the case for two Giant Schnauzer's from Lisburn recently when the pair both claimed 'firsts' at Crufts.
George and Zev proved they were 'top dogs' at the prestigious show at the Birmingham NEC earlier this month, when George, a two and a half year old schnauzer, took the rosette for the Good Citizen Dog, whilst 22 month old Zev was first in the Limit Bitch category, holding off nine other pooches m her class.
Owned by Lisburn woman Angela Willis and shown by her daughter Emma, Angela said she was "delighted" to see the dogs achieve such success.
I couldn't believe it," Angela said. "George won the Good Citizen award class, he was the only dog who passed his good citizen award, and there were nine in the class with Zev, so we were delighted.
The good citizen award is given to dogs who walk well on a lead, are good with children, obey sit and stay commands and use gates well - dogs which are good around others.
This is not the first time George has been a winner at Crufts, as he took home the prize for the Special Junior Puppy last year.
There was further success for George on St Patrick's Day in Dublin as the Irish Champion won the Best of Breed at a show, whilst Zev picked up her first 'green star' getting her on her way to achieving Irish Champion status.
Angela added: "Crufts was absolutely brilliant, it went by so fast. Emma was showing the dogs and she really enjoyed it. She also finished ninth out of 20 in the obedience category with our Border Collie Danny.
"I couldn't believe we got two firsts," Angela continued. "Some people can go for 20 or 30 years and not get a first so to get two was just brilliant."
stacey.heaney@ulsterstar.co.uk
Ulster Star
23/03/2012