Driver injured in brick attack on train
by MARY MAGEE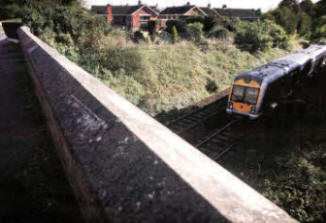 The scene of Tuesday night's attack
TRANSLINK is offering a £1000 reward to anyone who can help convict the vandals who threw a brick onto a moving train in Lambeg on Tuesday evening injuring the driver.
The Irish Rail driver sustained a minor eye injury after the brick onto the train at Bells Lane, damaging the windscreen at around 8.20pm. He was able to drive the train onto Portadown where he received medical attention.
The Belfast to Dublin Enterprise train had 17 passengers onboard when the attack took place.
Lisburn's police commander, Chief Inspector Darrin Jones, urged witnesses to come forward.
"This was an unbelievably stupid and dangerous act," he said. "Not only was the life of the driver placed in jeopardy but also those of the
passengers.
The individuals who dropped that brick need to consider what could have happened had the driver been seriously hurt or if they had caused a tragedy, how would they feel?
"I am urging anyone who knows the identity of those involved in this crime to contact police on 0845 600 8000."
A Translink spokesperson said that they are offering a £1000 reward to any member of the public who may have witnessed the attack.
"We condemn all incidents of antisocial behaviour against our vehicles and employees and would remind the public of the dangers associated with messing around on or near train tracks, both for passengers and drivers and themselves, he said.
"We also operate a cash reward scheme offering up to £1000 reward to any member of the public who witness any incident of vandalism, trespass or assault against a member of staff and is prepared to give evidence in court, resulting in a conviction to encourage people to report incidents of vandalism to the company."
Lagan Valley MIA Paul Givan said the mindless' act could have caused a disaster.
"This was an utterly reckless act that could have caused serious injury or even multiple deaths," he said. "It is incomprehensible why someone would do this and I appeal to anyone with information to contact the police. If this individual is caught the courts should administer the most severe punishment possible."
Lisburn Councillor Pat Catney, who lives in Lambeg, also condemned the attack. "This is an isolated incident and we don't want it occurring again," he said. "This was a wanton act and people could have been seriously injured."
Anyone who has any information is asked to contact the PSNI on 0845 600 8000 or ring Crimestoppers on 0800 555 111.
Ulster Star
20/04/2012