Natalie's special fundraising tribute to lost nephew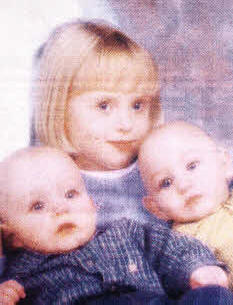 Baby Brendan (far right) with Sophie and twin brother Lewis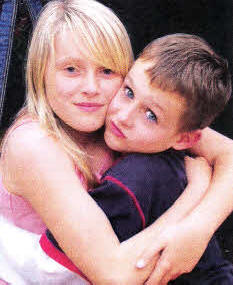 Lewis with sister Sophie
A LOCAL woman has spent the past year organising a Masquerade Ball which is due to take place on May 4 in memory of her little nephew who died from cot death almost a decade ago.
Natalie Martin from Craigmore Road will hold the Ball at the Wellington Park Hotel to raise money and awareness for SCOPE, a disability charity for those suffering from Cerebral Palsy, and FSID Foundation for the Study of Infant Deaths, which helps those affected by unexplained sudden deaths in babies.
Natalie's nephew Brendan Pratt, who lived in England and suffered from Cerebral Palsy, was just 22 months old when he died in his cot in November 2002. His twin brother Lewis celebrated his eleventh birthday in February.
It is believed that Brendan was starved of oxygen during birth in February 2001 which the family were told may have caused his Cerebral Palsy.
Tragedy struck the family when Brendan was found dead in his cot at home. His father had got up early to leave for work. His mother Carole, Natalie's sister, got up a short time later to check on her twin sons and found Brendan lifeless. As his death was unexplained the family found it even harder to cope with.
Natalie said it had been her dream to organise a ball to raise money and awareness for the two charities.
"It was an unbelievable tragedy for us all, but especially my sister and her family who had a 3-year-old daughter Sophie at the time and Brendan's twin brother Lewis still to care for," she said. "Its a life changing thing to lose a baby and we felt the shockwaves throughout our family, especially when there are no concrete causes for cot death. You can feel cheated and feel a need to blame someone or something to help ease the pain. FSID are an amazing organisation that participates in research for definitive answers or prevention of such a devastating syndrome. They also provide bereavement counselling to help families come to terms with what has came to pass.
"So after many years of coming to terms with losing my baby nephew it began to grow into a determination to help both charities in any way I could, thus the beginning of the Masquerade Ball. My aim is to raise as much as I can to send to both FSID and Scope as a thank you for the services they provide in such dire circumstances and to further research so that in the future no family should have to go through such a painful experience.
I am appealing to everyone who may or may not be attending the ball to dig deep and donate any amount possible to make this night memorable in Brendan's honour.".
Natalie is expecting around 60 people at the May ball. There are lots of raffle and auction prizes, including Nokia N96, Nintendo DSI Xl, one night B and B at the Europa Hotel Belfast, f.50 voucher for Spice Lisburn, signed DVDs by Jenny Augutter, case of wine. There is also a food hamper, 2 IPod docking stations/ radios, lunch for two at Deanes, Sharp microwave, two tickets to the Grand Opera House, two VIP passes to Odyssey
Cinema, family pass for W5, two sets of six tickets for Drumbo Race Park.
Among the sponsors are Central Electrical Supplies Ltd Urban Retreat, Ansell, Omak Agencies, NDM Agencies, Dunnes Stores and IBA Buying Association.
Anyone interested in buying tickets or going along can do so by logging onto the website masquerade212.com Tickets, which will include a three course meal and a disco, are £40 each or £360 for a table of ten. Tickets £5 are also available for the disco and you can pay at the door or from the reception at the Wellington Park Hotel. You can also contact Natalie directly on 07912391136.
Ulster Star
13/04/2012