Triple Crown celebrated at Lisburn Council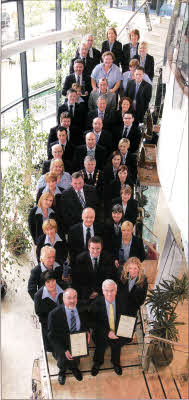 Lisburn City Council officers and elected members joined together to celebrate being the first council in Northern Ireland to win three Local Government Association Awards in one evening.
OFFICERS and councillors have joined together to celebrate Lisburn becoming the first council in Northern Ireland to win three Local Government Association Awards in one evening.
The Council's Building Control Unit won the 'Best Local Authority Service Team category; the Human Resources Unit won the 'Human Resources Service' category for its 'HR Clinic Scheme'; and the Assistant Director of the Building Control Service, Ian Wilson won the 'Employee of the Year'.
The Council's Chief Executive, Norman Davidson, said he was delighted that the outstanding quality of its staff and services has been recognised by the awards.
And the Mayor, Councillor Brian Heading, speaking at the event, said: The winning of three awards by Lisburn City Council is evidence of excellence within the organisation and our ongoing quest for improved services to ratepayers. It is challenging to be shortlisted for a Local Government Award, and for the Council to have surpassed this by having all three of its shortlisted nominations being independently judged as winners is an outstanding achievement."
Working within the Environmental Services Department, the Building Control Service strives to ensure that the built environment within Lisburn is of a high quality and is operating within statutory regulations.
Alderman James Tinsley, Chairman of the Planning Committee, said: "The category won by the Building Control Service was both difficult and highly competitive. Within Building Control each member of the team embraces the service's culture of continuous improvement and customer service."
Councillor Stephen Martin, Chairman of the Corporate services Committee, speaking about HR, said: "To have a central and important service to the Council, like Human Resources, awarded for its HR Clinic is fantastic. I am very pleased the Council is leading the way and is able to highlight elements of best practice in people management. I would like to commend the HR Service on its commitment to working with all Council staff to deal with aspects of people management in a creative and innovative manner."
Councillor Paul Stewart, Vice-Chairman of the Planning Committee, , who nominated Ian Wilson for his award, said: "Ian has many personal qualities including his leadership and commitment to providing a culture of innovation within the Building Control team. In the current difficult times for the construction industry and the wider building related sector Ian continues to deliver more for less. Every customer is treated in a fair, efficient manner and to the highest of standards.
To have received this award in front of his peers across all the local councils is an outstanding personal achievement for Ian and I believe is a fitting reward for his professionalism, commitment and determination."
Ulster Star
20/04/2012