Ulster Aviation Society search for WWII images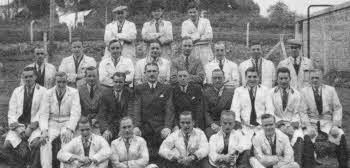 A group of local men who were employed at the Short & Harland fuselage production plant at Altona during the Second World War. Perhaps some readers will recognise some of the men in the picture.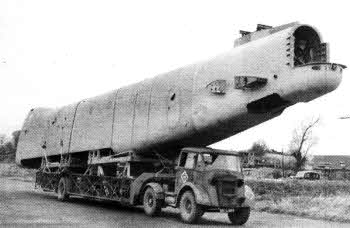 A 'Queen Mary' low loader on which fuselages were transported from Altona to Long Kesh and Maghaberry.
THE Ulster Aviation Society are hoping local readers can help them to find old photographs of plane fuselages in Lisburn during the Second World War.
During World War II, Lisburn ..and the surrounding area was an important location for the production of major components for and assembly of Short Stirling bombers, which were also produced at RAF Aldergrove and Short & Harland's main plant in Belfast. Fuselages, for example, were constructed at Altona, where Johnson's Coffee is currently located and from where they were taken to Long Kesh and Maghaberry to be assembled into the completed aircraft.
The hangar at Long Kesh, which was initially for the assembly of complete aircraft before it was decided that this plant should concentrate on wing production exclusively, is currently in use by the Ulster Aviation Society to accommodate the Ulster Aviation Collection, the largest collection of historic aircraft in Northern Ireland.
Transporting the fuselages by road from Altona to Long Kesh initially and subsequently to Maghaberry can only have been via the centre of Lisburn, a considerable feat in those days, considering the length of a Stirling fuselage - more than 85 feet - and the narrowness of Bow Street.
The Ulster Aviation Society's Ernie Cromie said: "Photos exist showing the nature of the load but it would be interesting to know if any readers of the Ulster Star are aware of pictures that might have been taken of the fuselages being taken through the centre of Lisburn, in which case I would be very grateful to hear from them."
If you have any information about the work locally during WWII or have any old images please contact Ernie at erne. airni@gmail.com or telephone 079 7450 2319.
Ulster Star
04/05/2012