Deputy Mayor attends Wallace Park Ulster Scots event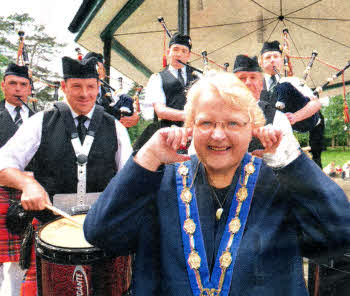 The Deputy Mayor, Councillor Margaret Tolerton at the Ulster-Scots themed Wallace Park Event
WITH the Wallace Park weekend summer-long programme of events continuing, the Deputy Mayor, Councillor Margaret Tolerton, attended the first event, the Ulster Scots led musical and poetry performance and highland dancing display.
Councillor Tolerton said: "I was really impressed with the Ulster Scots performance and despite the particularly bad wet weather that weekend, people turned out to see what was on offer.
"The performances were to the highest standard and provided great entertainment and the music was first class.
"Wallace Park is the ideal setting for events such as these and the Council's Leisure Services Department and Leisure Services Committee are to be commended for their efforts in staging such a variety of weekend events which will continue until September," she concluded. This forthcoming weekend will see Bastille Day celebrated in Parisian style in Wallace Park with the opportunity to indulge in a little local culture as well as being immersed into entertainment the French way. Copies of Park Life are available from Council facilities and online at www.lisburncity.gov.uk
Ulster Star
20/07/2012