Young family `forced from their home'
by MARY MAGEE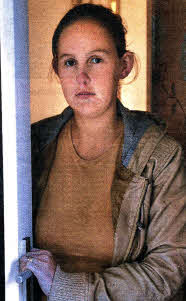 Victoria McKeever of Lisburn at her home where attempts have been made to force her and her family out US3712-401PM Pic by Paul Murphy
A YOUNG mother-of-three believes that she has been forced to flee from her Finch Gardens home.
Twenty-four-year-old Victoria McKeever, has blamed an issue over Union Flags outside her home and at the weekend was sent a thank-you card from her 'Loyalist friends' and white gloss paint was thrown at the family car.
She claimed that when she moved. into her Finch Gardens home four years ago she signed an agreement with Oaklee Housing Group that no flags would be flown in her development.
However, this summer she noticed that flags were flown outside her home and have remained there ever since. A meeting had been held during the summer where politicians and representatives of Oaklee Housing Group were present. According to Victoria at the meeting it was agreed that the flags which had not been flown in their development before would be taken down at the start of September, at the end of the marching season.
At the weekend, the family awoke to find white gloss paint was thrown on their red Honda Accord car and the family were also sent a thank-you card which named her, her three young children and her husband and was signed by her 'Loyalist friends.'
Victoria says that she is so scared for the family's safety that she has taken their belongings and moved into her mother's home at Twinbrook while a house can be found.
They were alerted in the early hours of Sunday by neighbours to be told that paint had been thrown over their family car.
"I could not believe that someone would just pour white gloss paint over the car," said Victoria. "On Saturday we had just celebrated my son's first birthday. The paint went from the back windscreen to the front. "I have lived in Finch Gardens and have never had a problem before."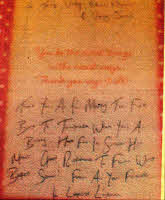 The card that was sent to Victoria's family 'thanking' her for moving back to Twinbrook and signed 'all your friends in loyalist Lisburn
She said that she was equally shocked on Monday afternoon when she returned to her home and noticed a card left in her letter box. When she opened the card it was addressed to her family, calling her 'scum' and telling her to go back to west Belfast.
"I am terrified to go back to my house," she said. "First our car was paint-bombed then a card was sent to me - what next? They addressed the card and named each member of my family.
"I do not want to move because I have lived here for four years and loved it but I am not prepared to stay somewhere where I am not wanted."
In a statement the police said that the content of the card was sectarian in nature. "Police received a report that white paint had been thrown over a car outside a property in the Finch Gardens area overnight between September 8 and 9.
"Officers are also investigating the origin and content of a card received by the residents at the same address on Monday September 10."
Police enquiries are continuing.
A spokesperson for Oaklee Housing said: "Oaklee Homes Group are aware of the case and can confirm that our Housing Officer has visited the tenant and will continue to offer support, advice and cooperate with them and any agencies supporting our tenant at this time.
Ulster Star
14/09/2012