Invitation to join with veterans in Walk for the Wounded
by by STACEY HEANEY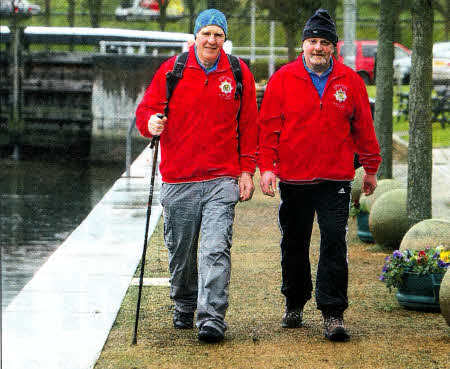 Bert Smith and Geordie Spence who are walking from Dublin to Belfast to raise funds for the Irish Guards Appeal Fund. US0812.101A0
A MAGHABERRY man is joining a charity walk from Dublin to Belfast to raise funds for the Irish Guards Appeal Fund.
The Walk for the Wounded will start on February 26, with the group walking through the Moira/Lisburn area on March 3.
Frank McCracken, a member of the Irish Guards Association Ulster Branch will join fellow members, Geordie Spence and Bert Smith MBE, along part of the 128 mile walk, assisted by a current serving member of the Regiment.
The group is hoping for large turnouts on the stretches at either end of the journey and are asking local people to join the walk for the final ten miles from Lisburn Civic Centre to Belfast on Saturday March 3 at 10am.
Proceeds of sponsorship for the walk will be directed to support wounded Irish Guardsmen, who have been seriously injured during their tours of duty in Iraq and Afghanistan.
The walk is also giving the group the opportunity to remember and honour those killed in service with the Irish Guards. A number wreath laying ceremonies will be held en route from Dublin to Belfast. The first ceremony will be in Palmerston Cemetery, Dublin, at the grave of LCpl Malone (Molly), who was killed in Iraq. After that a wreath will be laid in the Garden of Remembrance in Phoenix Park.
The next two ceremonies will be held at the graves of Guardsmen Patsy Corry and Trevor Bell both of whom were killed in Aden, with the service for Trevor Bell taking place at his grave in Trummery
Lane, on Friday March 2. Finally a wreath will be laid at the War Memorial at Belfast City Hall. It is hoped to have the families of those who lost their lives join the group at their gravesides.
Speaking about his involvement with the walk, Maghaberry man Frank said: "Bert is the inspiration behind the walk. He has Multiple myeloma, cancer of the blood and bones and has had a lot of problems with his feet. He is grateful he still has his feet, unlike a lot of the guys coming home injured, so this was inspired by Bert.
As co-ordinator of the walk I would like to thank the Ulster branch and the Republic of Ireland branch for their help. I would also appeal to people to log on and donate, if possible.
If you wish to be part of this worthwhile venture your support will be very welcome in the following ways;
By joining the walk in either Dublin or on the Lisburn to Belfast leg. Sponsorship forms for this event are available from the Secretary of the Ulster Branch Irish Guards Association. You can donate online at www.bmycharity.com/walkforthewounded or send a cheque payable to the Irish Guards Appeal Fund and quote 'Walk for the Wounded' on the back to RHQ Irish Guards, Wellington Bks, London SW1E 6HQ.
stacey.heaney@ulsterstar.co.uk
Ulster Star
24/02/2012