Local people are thanked for walking for diabetes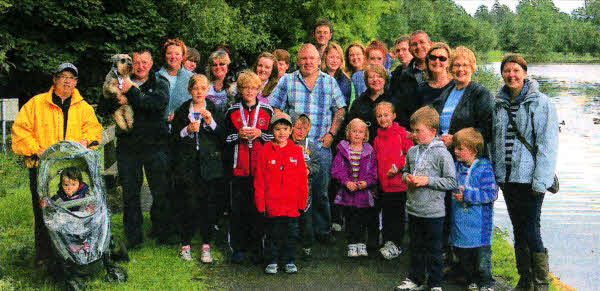 Participants who took part in the walk around Hillsborough Forest Park for Diabetes UK
DIABETES UK Northern Ireland has thanked everyone who took part in their new Walk in the Park event in Hillsborough. The walk started at the Forest Park and a despite some very threatening
clouds before the start, all the walkers completed the walk without an umbrella and still stayed dry.
Naomi Brown, Fundraising Assistant for Diabetes UK Northern Ireland, said: "Last year, the Walk in the Park events helped raise a total of £20,473.04 for Diabetes UK Northern Ireland and and I hope the support from the Hillsborough area could help to raise even more this year."
Latest figures indicate 3,800 people in the Lisburn City Council area are diagnosed with diabetes. Overall in Northern Ireland, there are 73,500 people diagnosed with the condition, 1000 of which are young people and children.
It is estimated that up to 10,000 people in Northern Ireland have diabetes but do not yet know it as the symptoms are quite vague meaning people can go for up to ten years before being diagnosed.
Symptoms include increased thirst, passing urine frequently, extreme tiredness, weight loss and blurred vision. Anyone experiencing symptoms who thinks they may have diabetes should visit their GP as soon as they can.
You can also take part in the Mourne Wall Walk Challenge which takes place on Saturday June 30, 2012.
For more information visit https://www.diabetes.org.uk/In_Your_Area/N_Ireland/Fundraising/Walks/ or contact marina.hoey@diabetes.org.uk
Ulster Star
06/07/2012