Wallace High entrepreneurs take top enterprise award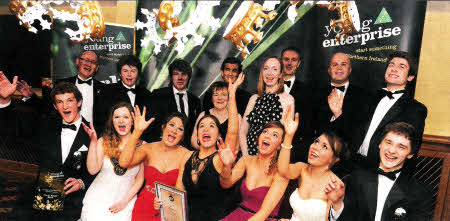 QuirkTees' from Wallace High School, Young Enterprise Northern Ireland Company of the Year 2012, pictured at the Young Enterprise Northern Ireland's 25th Anniversary Celebrations at Titanic Belfast, with Russell Welsh and Deborah Johnston of Department of Education, James McCullagh, guest speaker, finalist of 'Young Apprentice', Professor Marie McHugh of Ulster Business School, Michael Hall of Ernst and Young, Michael Mercieca of Young Enterprise UK and Ciaran Sheehan, Chair of Young Enterprise Northern Ireland.
WALLACE High School scooped the top award at the recent Young Enterprise 'Company of the Year' awards ceremony at Titanic Belfast.
The local school picked up the award with their business 'QuirkTees', which designed and produced innovative T-shirts.
The event, supported by Ulster Business School, marked the culmination of the UK's leading business and enterprise education charity's celebrations to commemorate 25 years of Company Programme in Northern Ireland.
Supported by the Department of Education, Young Enterprise Northern Ireland has facilitated the involvement of almost 1,500 young people across in Company and Team Programmes during the current academic year, whereby they establish and manage their own student enterprise with the assistance of expertise torn local business mentors.
The ceremony was hosted by BBC's Jim Fitzpatrick, and featured local celebrity guest speakers, Young Enterprise Northern Ireland Ambassador Jim Eastwood of 'The Apprentice' and 'Young Apprentice finalist James McCullagh.
Carol Fitzsimons, CEO of Young Enterprise Northern Ireland commented: "The students deserve a celebration of this scale to recognise the hard work and commitment they have demonstrated over the past year. "Their innovation and determination to achieve business success bodes well for the future of our local economy."
jenny.monroe@ulsterstar.co.uk
Ulster Star
18/05/2012