War of words between Lagan Valley MLAs over A&E problems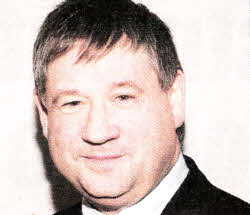 Lagan Valley MLA Basil McCrea
A WAR of words erupted at Stormont this week between two Lagan Valley MLAs over problems at A&E units in local hospitals.
During a debate on the Accident and Emergency Department at the Royal Victoria Hospital, which has been under pressure following the closure of the casualty unit at the Lagan Valley overnight and the total shutdown of A&E at the City, Ulster Unionist Basil McCrea called for DUP Health Minister Edwin Poots, a fellow Lagan Valley MLA, to resign from his ministerial position.
If you close one A&E, only an idiot is surprised that the demand goes up elsewhere," said Mr McCrea.
"That is the real issue. The Minister is culpable and responsible. If heads are to roll, one should be his."
Addressing Mr Poots, Mr McCrea continued: "When you start making assertions that heads will roll if somebody does not do something, it is your head that should roll. You should actually stand up and be counted. Frankly, what you are doing is obfuscating and ducking your responsibilities."
Health Minister Edwin Poots MLA
Addressing issues raised during the debate, Mr Poots said: 'I want to express my regret at all of the deaths that have taken place in our accident and emergency unit in the Royal Victoria Hospital over the period in question. I also want to express my regret at the amount of time that some have had to wait and the conditions that some have had to wait in. We want to improve that, and I believe that we will do so. Nonetheless, it is important that we recognise that problems exist and deal with them."
During the often heated debate, Mr Poots hit out at two of the members, TUV leader Jim Allister and Kieran McCarthy of Alliance.
"Mr McCarthy, in true style as that of the village idiot, behaved in an opportunistic way and did not make any rational points whatsoever," said Mr Poots. "Indeed, it seems that I am to blame for everything that has happened in the health service from the start, in spite of the fact that I have only held this office for nine months.
"Mr Allister, on the other hand, is surprised that people die in accident and emergency units. I do not know where he has been living for the past number of years, because his comment was particularly stupid."
Mr Poots refused to apologise for the comments about Mr McCarthy and Speaker William Hay is to make a ruling on the matter.
Speaking after the debate, Mr McCrea said: "The DUP have called for heads to roll within the service in light of these shocking reports, however the responsibility ultimately rests on Minister Poots. If he cannot solve the problems facing our health service, he must step down.
"I cannot fault the hard work of staff at A&E units, however the public outcry shows there are serious problems facing our health service.
Action must be taken. It is not acceptable that someone who may be sick is forced to wait for twelve hours in A&E. It is not what we should expect, or accept, in a developed country," he concluded.
julieann.spence@ulsterstar.co.uk
Ulster Star
30/03/2012