Construction apprentices build on success at WorldsKills competition
Stephen Mooney with Sarah Travers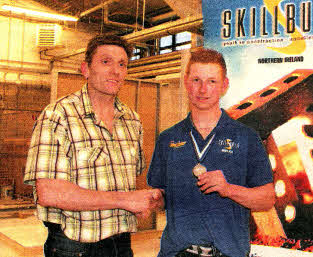 Andrew Gill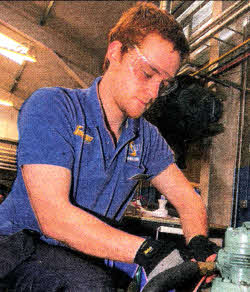 Refrigeration and Air Conditioning apprentice Adam Lyness, who finished first place at the prestigious Skill Build NI 2012 competition.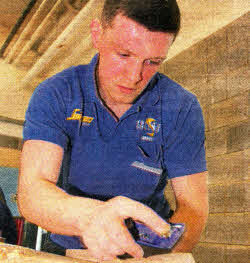 Chris Clarke
AFTER achieving gold, silver and bronze medals at WorldSkills 2011, the search for the top construction apprentices started again with 100 competitors from all over the Province testing their skills at Skillbuild 2012 in the North West Regional College at Limavady.
Sixteen top construction apprentices from South Eastern Regional College (SERC) put their skills to the test and were judged by Skillbuild Northern Ireland judges in disciplines including bricklaying, cabinet making, carpentry, plastering, plumbing and refrigeration and air conditioning.
Skillbuild NI is held annually each spring, with the top local construction apprentices competing to win coveted titles in 12 different construction craft areas. The winners may then go on to represent Northern Ireland in the UK Skillbuild Finals and potentially the UK at WorldSkills.
The apprentices were set a test project which was designed to challenge their ability to follow detailed instructions, produce accurate and neat work and be economical with materials while working to strict timescales.
When the results were announced, SERC Joinery apprentice Stephen Mooney was celebrating after winning third place in the Cabinet Making category. Stephen was supported by Carpentry lecturer David Burleigh and employer William Dowling Ltd, Lisburn.
Stephen Woodrow, Contracts Director at William Dowling, said: "Stephen has represented himself, SERC and our company extremely well and we are very proud of his success. It is a privilege to be associated with SERC over the years as we are committed to supporting apprentices. The programmes provides us with a continuous stream of readymade, motivated young talent, whose
skills and expertise can be ultilised within the company for many years."
Adam Lyness, from Dromore, was another successful apprentice beating off stiff competition to take first place in the Refrigeration and Air Conditioning category. Gavin Murray from Aghalee took second spot while Gareth McConnell made it a cool sweep for SERC taking third spot.
Andrew Gill from Saintfield secured second place in the plastering and dry wall systems category.
The students, who all study at the Lisburn Campus, hope that the experiences from the competition can act as platform for success throughout their career.
John Nixon Head of School for Construction and Engineering at SERC said: "Competitions like Skillbuild NI provide a unique stage for the apprentices to demonstrate the skills and expertise they have gained whilst studying at the College. This high profile competition attracts the best up and coming young talent in a range of construction trades from across the province. Their success is a credit to the lecturers and employers who have been supporting them in advance of the intense competition."
Ken Webb, Principal and Chief Executive of SERC, added: "The success of our apprentices demonstrates the high standard of construction skills training that SERC offer. I wish all the winners every success as they go on to represent Northern Ireland in the UK and further afield."
Brian McMullen, Competitions Manager for SERC said; "We are hopeful that Northern Ireland can once again produce medal winning members of Team UK such as SERC Refrigeration apprentice Stuart Millar who won a bronze medal at the last WorldSkills competition in London.
"For competitors it's the experience of a lifetime and recognition of outstanding achievement and ensures the quality of our professional and technical training is recognised worldwide. This success will also gain them an edge in the very competitive jobs market"
Ulster Star
17/08/2012