Recalling the day the Yanks came to Lisburn
SPECIAL EVENT TO MARK 70TH ANNIVERSARY
by MARY MAGEE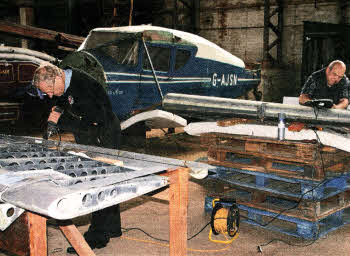 The Gannet assembly line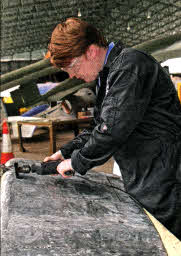 Liam Boyle working on the Seahawk Rudder
THE spirit of the 1940s is set to be evoked when volunteers from the Ulster Aviation Society hold a special day to mark the 70th_mniversary of the arrival in 1942 of American airmen and women at the former World War II airbase at Long Kesh.
On Saturday, August 25 they will be marking the occasion with an Open Day featuring fighter aircraft, period military uniforms while there will be music from the wartime era.
It was in the late summer of 1942 that the Yanks' of the 8th Air Force Composite Command drove up in their jeeps to join the massive preparations aimed at eventual victory in Europe.
"There was a strong link between Northern Ireland and the American military during that time," said Raymond Burrows, chairman of the UAS. "To commemorate that relationship, we'll have a unique celebration set for the afternoon."
The society will have on display its own impressive collection of 15 aircraft, including a U.S.-built veteran of World War II in the shape of a Grumman Wildcat fighter. The aircraft is under active restoration by UAS volunteers.
Subject to weather, visitors will see a helicopter fly-in, as well as a wide assortment of military vehicles and displays dating back to World War II.
The Swing Gals will be on stage to present songs from that era, and re-enactors in period military uniforms will be on hand to give an authentic air to what some of the personnel at the base might have looked like at the time.
"As well, we're preparing our Buccaneer strike aircraft for a roll-out to flex its folding wings," said Mr. Burrows. "This is a most impressive aeroplane. For years, Buccaneers flew into and out of the Royal Navy/RAF Maintenance Yard at Sydenham during the Cold War, so we naturally feel the aircraft has a place in Northern Ireland history.
"The roll-out and hydraulics demonstration is similar to what happened just a few years ago aboard aircraft carriers of the Royal Navy."
UAS members will be on hand to provide information about the collection and displays, and if all the activity seems a bit overwhelming at times, snack food and refreshments will be available.
"It promises to be a great day for the whole family," said Mr. Burrows. "We'd obviously have a special welcome for all American visitors. Our country owes that earlier generation a tremendous debt of gratitude, and wed like to say thanks to them and their descendants."
The entrance gate to the Long Kesh/ Maze site will be open from 12.30 to 5 pm on the Saturday, and parking will be available at £5 per car. The site entrance is off the Halftown Road, about one mile west of Lisburn.
Ulster Star
27/07/2012