Youth Initiatives celebrate launch of Big lottery fund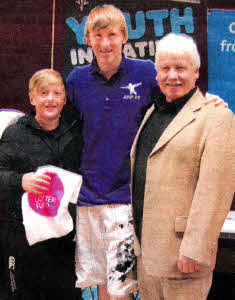 Participants from East Belfast and YI Volunteer from the Collin Area receive Big Lottery Fund t-shirts from Sammy Douglas MLA (DUP, East Belfast)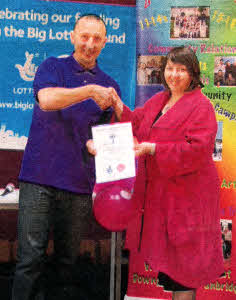 Tony Silcock (Second Chance Project Leader) receives grant awards certificate in symbolic handover from Norrie Breslin (Head of Policy and Learning, Big Lottery Fund).
YOUTH Initiatives has marked the launch of its Big Lottery funded "Second Chance" which received £436,134 and will help children in Lagmore, Poleglass, Twinbrook over the next four years.
The event at Ashfield High was attended by over 250 young people aged 11-18,Jrom East Belfast, the Colin Area, Downpatrick and Banbridge hearing of how the project aims to re-engage them in education, learning and life and realise their potential as the young generation for Northern Ireland.
The Second Chance project will run in in Poleglass, Lagmore and Twinbrook in Lisburn/Outer West Belfast until June 2016.
Sammy Douglas MIA (DUP, East Belfast), Cllr Brian Heading (SDLP, Colin Area) and Rev Adrian Dorrian (St Mark's Church of Ireland, East Belfast) also attended the event.
Mr Heading commended the Big Lottery Fund for supporting Youth Initiatives, saying: "I am delighted that the Big Lottery Fund has spotted Youth Initiatives and have recognised the outstanding work they have been doing with young people for many years. This is a great investment."
Nome Breslin, Head of Policy and Learning at the Big Lottery Fund, congratulated Youth Initiatives to the grant award. "We are already seeing the really positive impact that the Empowering Young People programme is having on the lives of our most vulnerable young people during this harsh period of recession in Northern Ireland."
"The programme is supporting a range of vital projects that are transforming the lives of isolated young people in our communities. Youth Initiatives' Second Chance" Project assists at-risk young people in East and West Belfast and helps them make the
most of their education."
The Second Chance Project has been funded with £436,194 from the Big Lottery Fund's Reaching Out: Empowering Young People programme and will run for four years.
The Second Chance project will employ four youthworkers and incorporates an early intervention strategy seeking to enable over 400 11-18 year-old participants to break out of the cycle of intergenerational underachievement and social deprivation.
The Coordinator of the new project, Tony Silcock, received the grants awards certificate from Nome Breslin in a symbolic handover.
"Addressing 100 young volunteers and over 150 participants, Tony Silcock said: "We are excited about this new project, which really is about you guys. Through the Second Chance project, we will be able to work with 2000 young people over 4 years. We will invest in you, help you to make the most of your education and hope that you find a home in Youth Initiatives where you can try new things, learn and explore what you want to do with your lives.
Youth Initiatives' approach of working with young people on a long-term basis and mobilising them for volunteering and leadership, has allowed many young people to gain new vision and motivation to make a positive contribution to their local communities. As part of the launch, four young volunteers from East and West Belfast were awarded Big Lottery Fund t-shirts by Sammy Douglas and Brian Heading in recognition of their dedicated work at this year's Youth Initiatives summer schemes across East and West Belfast.
Ulster Star
10/08/2012