Local mum zips into action for Tinylife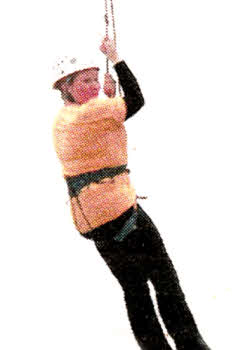 Kimberly taking part in the Zipline Challenge last year
A LOCAL mum whose son was born 11 weeks early is set to zipline across the Lagan to raise funds for premature baby charity Tinylife.
Kimberly Hill, a member of the Friends of TinyLife Fundraising Group, is fronting a recruitment campaign to encourage the people of Lisburn to get involved in the zipline event and raise vital funds for the charity.
Kimberly said: "I know from personal experience having a premature baby can be demanding, my son Jonathan was born at 29 weeks, weighing 31b 2.5 oz. Thankfully today he is a healthy 19-year-old. TinyLife is an amazing charity that exists to ease the pressures on the parents of premature babies.
I would urge you to take up the Zipline Challenge, it really is one of those things you should try at least once in your life!'.
The zipline event, which will take place on Saturday 16th June 2012 will be an exhilarating challenge, not for the faint-hearted. Participants will be lifted 100ft off ground in a crane. They will then be harnessed onto a zip line and will zoom 1000ft down the wire and over Belfast Lough.
All funds raised will go towards the charity's work in research, education and support for families of premature and vulnerable babies.
Valerie Cromie, Fundraising Manager for TinyLife said: "Every day in Northern Ireland seven babies are born too soon, some will arrive as early as 24 weeks and weigh as little as 11b. The zipline is an amazing way to get a birds' eye view of Belfast."
Places are limited, anyone interested in signing up for the challenge should contact TinyLife on 02890 815050 or email Valerie@tinylife.org.uk. Each participant is asked to pay an entry fee of £35 and raise a minimum of £100 sponsorship.
---
Lisburn team helps Operation Lipstick to raise over £18k for TinyLife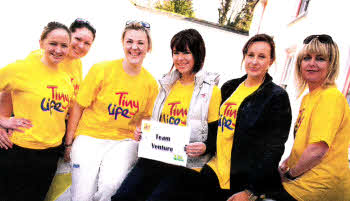 L-R: Paula Mooney-Dickson, Michelle Mooney, Suzi Haslem, Julie McBride, Emma Sloan and Geraldine Whyte
A TEAM from Venture Photography, Lisburn, has taken part in the this years ladies challenge 'Operation Lipstick' in Castlewellan Forest Park in aid of TinyLife, the premature baby charity.
The event saw over 130 ladies take part in activities including archery, orienteering, wall climbing, raft building over the course of the day. Team Venture raised more than £1,700 and, in total, the event raised £18,000.
This is the second year the team from Venture has taken part. Managing Director Julie McBride said: "It is the most fun we've had in terms of fundraising for the charity. We were certainly put through our paces but the weather was glorious and we got stuck into everything from orienteering to raft building. There was a lot of healthy competition between the teams taking part and we're thrilled that the event has bane such a huge success."
Venture Photography has worked alongside TinyLife for more than five years. Although they are best known for producing an annual calendar featuring TinyLife babies, they also regularly support the charity with fundraising events which have included everything from abseiling to skydiving.
TinyLife regional fundraising manager Valerie Cromie said: "This year's Operation Lipstick has been a great success and everybody who took part had bags of enthusiasm and energy for the challenges we set. The amount we've managed to raise so far has been superb and were looking forward to increasing this even further with our next event."
Ulster Star
06/04/2011