locale designer is set to star on Fashionweek catwalk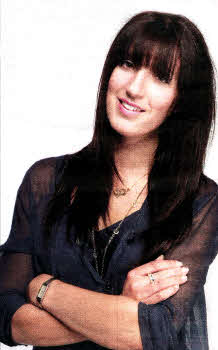 Zoë Boomer
A LISBURN designer is set to show her latest collection at next month's Belfast Fashionweek.
One of the highlights of the week is the local designer's night - which this season happens on Thursday March 15 and features Zoë Boomer with her fashion label, Zoë Boomer Fashions.
Zoë, a former pupil of Friends' Prep School and Laurelhill Community College, studied for two GNVQ's in art and design and one in business at Lisburn College and she played Hockey at Lisnagarvey hockey club.
While her family still live in Lisburn she is based based in Putney, London. with her husband of almost five years, Jay.
Zoë is recognised for her love of feminine style and simplicity, which can transform from daytime chic to evening glamour.
After graduating from the London College of Fashion, the Zoë Boomer label was launched in 2006 and has already gained a loyal celebrity following including Natasha Bedingfield, Zoe Salmon, Leigh Arnold and Laura Michelle Kelly. A number of her dresses were also short-listed by Madonna to appear in her movie Filth and Wisdom.
She has even been described as 'the next Stella McCartney'.
Zoë said: "I work in luxury fabric and fluid movement is the essence of the label. I love creating beautifully tailored timeless pieces which reflect romance, beauty and elegance.
I admire Mary Kate and Ashley Olsen's style as they always mix and match and are not into things looking perfect. I especially like the oversize look as I'm not a fan of things looking too fitted and matching."
Outside of work Zoë likes to relax with a DVD on the sofa, take a stroll along the King's Road, have lunch at Sketch, as a treat, or visit Petersham tearooms for coffee but she does love the glamorous side of the fashion industry.
"I really enjoy working on photo shoots especially in wonderful and stunning locations around the UK. The clothes just seem to come alive on the models and it's always a thrill to see what started as an idea in your head in the flesh.
"I also love the excitement of a live catwalk show— they can be very stressful at the beginning but once the models start working the catwalk wearing your latest collection — it's one of the best feelings ever," said Zoë.
The full show schedule is available online at www.facebook.com/belfastfw or at www.belfastfashionweek.com along with details of this season's trends plus links to all participant retailers and sponsors.
Catwalk tickets, which cost £15.00 (or £20 for a limited number of exclusive front row seats) are available from the Belfast Welcome Centre on 02890246609 or via the website. Ticket price includes a goodie bag and a West Coast Cooler.
Ulster Star
24/02/2012