Charity urges people to think pink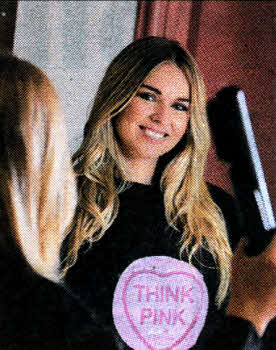 Zoe Salmon launches Action Cancer's 'Think Pink' Campaign
THIS month is Breast Cancer Awareness Month and Action Cancer is calling on your help and support to Think Pink and raise funds for the only charity in Northern Ireland providing breast screening for women.
This means that 1000 women in Northern Ireland are offered a breast screening every month and from this, Action Cancer detect an average of six cancers.
Action Cancer are encouraging members of the public to raise funds towards their screening service for women aged 40-49 and 70+ and every penny donated to this campaign is spent on cancer services here in Northern Ireland only.
There are lots of fundraising ideas for you to choose from! Why not get a group of friends together and hold a Pink Tea Party, ask your staff to wear something pink to work, have a sponsored gym workout or ask your hairdresser to have a Pink Pamper Party.
Gillian Thomson, Fundraising and Events Officer at Action Cancer, "This is such a fun way for local people to get behind a local charity and do something fun whilst raising money for a very worthwhile cause. Without the support of local . people and business, we could not continue to offer our lifesaving screening service."
Anybody interested in taking part in the 'Think Pink campaign please contact Action Cancer on 9080 3344 or email gthomson@actioncancer.org. Fundraising packs will be sent out to all those taking part and Action Cancer's Events team are available to offer support to all fundraisers and attend cheque presentations.
Ulster Star
19/10/2012