Zumbe night raises funds for brain tumour charity

Danielle McGriskin with those who took part in the Zumba class in Glenavy recently
A BALLINDERRY girl who suffered from a brain tumour has held a Zumba night to raise vital funds for charity in Glenavy.
Danielle McGriskin, who was diagnosed with a low grade brain tumour last year, raised £890 for Samantha Dickson Brain Tumour Trust (SDBTT), the leading brain tumour charity.
Danielle, who had two operations for hydrocephalus last year, plans to hold other fundraising events this year for both Samantha Dickson Brain T Tumour Trust and Brainwaves N.I.
She has already donated £200 to the Royal Victoria Hospital, Ward 4F to help provide improved facilities for adolescents staying on the ward.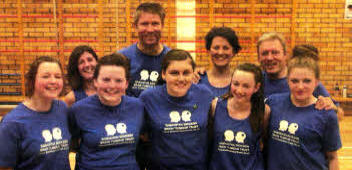 Danielle McGriskin with friends and family at the Zumba class
Danielle wanted to raise as much money as possible to ensure that brain tumour research receives vital money.
"I was so proud to see 'so' many local friends and the wider community come out and support this important charity and everyone had such a great time," said Danielle.
I would especially like to thank Hannah Marie, the Zumba instructor who inspired us all to keep going and made the event very enjoyable, Ballymacrickett school for the lending us the hall and Crumlin Tesco and Glenavy Cabbage Patch for providing the fruit salad.
"My goal is to raise as much money as possible to ensure that brain tumour research receives the vital money needed to stop this horrible disease."
Claire Wormley, SDBTT's Head of Fundraising, said: "We are grateful for all the efforts made by our fundraisers and thank them for taking part in the Zumba night, we hope they're now enjoying a well-
earned rest! Only 1% of cancer research funding goes on brain tumours in the UK. It's only through the efforts of people like Zumballe and her family that we can change that in the future, and bring hope to the thousands of people who are diagnosed with a brain tumour every year."
Brain tumours are one of the biggest cancer killers of children and adults under 40 with 3,500 losing their lives to a brain tumour every year.
Over 8,500 people are diagnosed each year in the United Kingdom with a primary brain tumour, including 500 children and young people. SDBTT needs to raise £2 million per year for its vital work, funding research to find a cure, providing support to give hope and raising awareness to change outcomes.
Ulster Star
03/02/2012