Convent School Choir, 1953.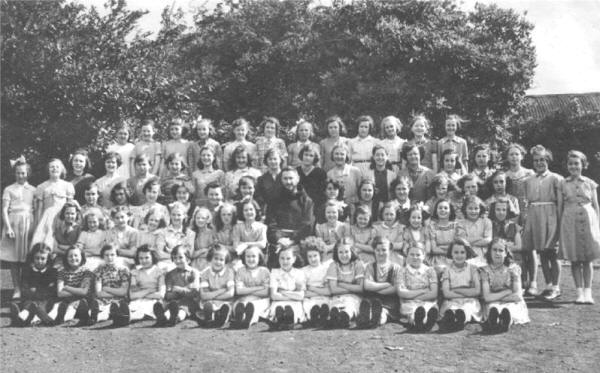 Back Row left to right
Ann Hanna, Briege O'Neill, Eithne Lavery, Lila Gorman, Joannie Reid, ?, Geraldine Green, Patsy McKernan, Lily O'Reilly, Elizabeth Keenan.
4th row left to right.
?, Ann Hanratty, Stella ?, Norma Neill, Kathleen Hanna, Sonja Gorman, Vera McClinton, Kathleen Lyttle, Mona Kerr, Patsy Dumigan, Netta Nelson, Sally Bush, ?, Alice McManus, ?, Deirdre Canavan.
3rd Row left to right.
Kitty Dornan, ?, Pat McKeown, Vera Lavery, Gretta Campell, Mary Mooney, Fr. Joachim OFM, Patricia Gallery, ?, Marie McDonald, ?, Peggy Martin, Anne McMaster, Sheila McKeown, ?, Teresa McCurry, Marie Robinson, ?, ?, ?, ? Betty Green, Mena Kerr, ? Trainor, Ann Fleeton, Phyllis Gallery, ? , Ann McKeown.
Front Row left to right
?, ?, ?, ?, Lena Rooney, Anita Canavan, Maureen Gorman, Kathleen Lavery, Bernadette Duffy, Margaret McKeown,?, ?, Patricia Kerr, Tilly McReynolds.

If you recognise anybody in this photograph please email me Jim Collins
23/11/2007