Hilden School football team final of Lisburn School Cup1936 -1937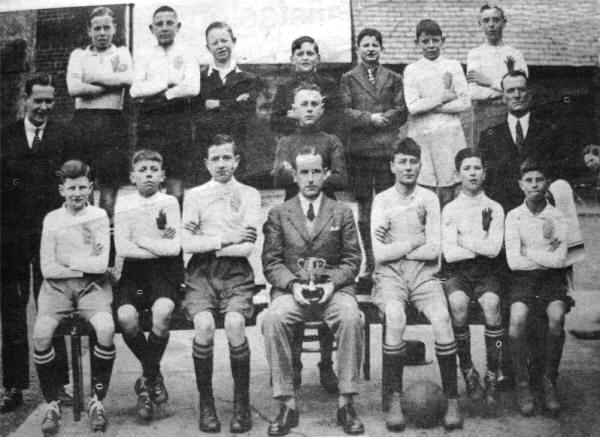 Hilden School football team final of Lisburn School Cup1936 -1937
The Match was the final of the Lisburn School Cup 1936 - 1937 played at Hilden. It was Hilden School against the Lisburn Boys the final score was Hilden 5, Lisburn Boys 2, the names are as follows
Back Row L-R: Harry Rooney - ? Johnston - ? McClurg - Billy Dornan - Nick McGuinness - Chigo Gorman - John O Kane
Centre Row: Mr Woodend - Goals Jackie Sharkey - Mr Towman
Front Row L-R: Kenny Friars - Clute Hanna - McKittireck - Mr Barbour - ? McGuinness - P Towman Jr -Bobbie Gorman.
Last but not least the kid peeking round the corner on the right is Larry Close (Mousey)
Hi Jim
I came across this photo in the Ulster Star quite a few years ago I was very much aware of it as it hung in my Grandparents home in the early 40s as my uncle Harry is in it, then one day quite a few years ago sitting with the staff in the Niagara Jimmy Lewis asked me did I know anyone in it. I was aware of three individuals, for some reason I must have cut the photo out of the star and came on unexpectedly while going through old photos so I took it to my Uncle Bobbie Rooney (Bricklayer & Fair Dart Player) and he filled in the rest some Christian names are missing and some nick names are used, I hope this doesn't give offence .
0/21/02009