Lisburn's junior orange lodge in the late 1950's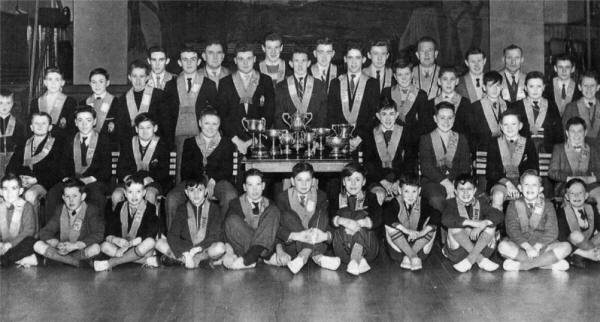 Recently in the Ulster Star we've included pictures of Lisburn's junior orange lodge. This photograph shows members in the late 1950's and was supplied by Mr. George Fenton of Maghaberry. If you can fill in the blanks please let us know.
Back row: - Jim McHenry, Harold Clarke, George Crothers, Maurice Latimer, Douglas Parker, Samuel Dick, David Connor, Mr Latimer , Raymond Payne.
Third row: - Joe Crothers, Michael Rooney, Wallace Aughey, Tony Crothers, Matt Shields, Gilbert Gilliland, Winston McKillen, Ray McHenry, Dee Bruce, Trevor Payne, UNKNOWN, Don Munn, Seymour Murphy.
Second row (seated): Ronald Bruce, Clem Stewart, Johnny Curran, Brian Payne, Jim McCarthy, Dessie Sloan, Rodney Neil, Danny Rodgers.
Front row (on floor): - George Fenton, Thomas Shields, UNKNOWN, UNKNOWN, John Hawthorn, Duncan McClean, Joe Brown, Mervyn Ferguson, Victor McCarthy, William Dick and Eric Crangle.
2007