The intake for the Technical Certificate course at Lisburn Technical College In 1946.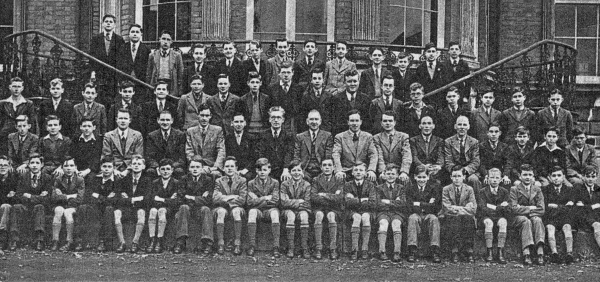 Please click on photograph or here for a larger photograph
Back row: left to right, Martin, Murdoch, unknown, Campbell, Rainey, unknown, Kelly, Smith, Robert Erwin, Barry Sewell, unknown, Freddy McComisky, Vance.
Third row: Hanna, Law, Erskine, Robb, Ross, unknown, unknown, Rankin, Cairns, Virtue, unknown, unknown, Hutchinson, Welsh, McCleery, Corbett, Crouch.
Second row: Gawley, Briggs, Irvine, Adams, Kennedy, Downing, Willis, Cardwel, Newell, Waring, Cowan, Parker, Nesbltt, Anderson, Walsh, Campbell, Palmer.
Front: unknown, unknown, Walker, Smith, Maguire, Boyce, Adair, Moore, McCormick, Mcilfatrick, unknown, Walker, unknown, McStay, Graham, Craig, Irvine, unknown, Ireland. SS44801
Are you in this photograph?
BARRY Sewell is anxious to hear from anyone who is pictured in the photograph which shows the intake for the Technical Certificate course at Lisburn Tech in 1946. Barry, who is in the back row, fourth from the right, wants to know if any of his old friends are still living in the area.
"I have a lot of special friends and I would love them to get in touch," he said.
"A few will not be around any more but I'm sure there will be some of them about."
I was very interested in the comment about Barry Sewell, whom I remember very well - in fact, I'm standing next to him in that picture . I have lived in Wales for the past 55 years, so haven't kept in touch with anyone except Tom Virtue, who now lives in Chester. I would be very glad if anyone there would like to get in touch at llenrut@live.co.uk.
Best wishes
Robert Irwin
If you know the Christian names or the names missing on the photograph please let us know at info@lisburn.com
This photograph is scanned from a scan of a scan of a newspaper if you have a print of the original please send it in to photographs@lisburn,com
28/07/2011