Adam Higginson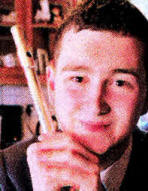 ADAM Higginson, 17, from Lisburn is a pupil at Fort Hill College studying AS Levels in Music, ICT and Law. He is a flautist and recently passed his FTCL recital diploma with the help of his tutor Brian Houston.
What do you like doing on your day off?
On my days of school I attend the gym "Fit4less" were I am trying to get fitter. I also would spend most of my day practising my flute and spend time listening to classical music with my wee sister Ellie.
If you were to choose your favourite meal what would it be, where and why?
My flute tutor's sandwiches on a Sunday as they are made very well. They are egg and onion with a big slice of cake and orange juice nothing better to end the week with this.
What has been your proudest moment?
My proudest moment has to be passing my FTCL diploma as it is the highest diploma a musician can take.
What was the most frightening moment of your life?
When my flute orchestra conductor Glen Houston shouts ,"Tone Adam!" this is very scary.
How would you describe your taste in clothes?
I would describe my taste of clothes smart as I am wanting to be a Guardsman in the British Army and all Guardsmen dress very smart.
What would you do if you won a million pounds?
I would buy myself a gold flute. I would buy my mum a caravan as my mum is always at the caravan shows at the Kings Hall.
What was your most embarrassing moment?
In school I tripped over a hinge on a door which was sticking up in front of a lot of people.
What music do you like?
I adore classical music especially works by Beethoven, Mozart and Dvorak. I love military marches and music played by a Guards band.
What sports person do you most admire?
Stephen Ferris as he is a leader for the team and leads from the front rather than letting other people do the work for him.
Describe your best ever holiday. What would your dream holiday be?
When I went to Wales with the Cadet Corps of Drums to participate in the annual Rourkes Drift concert, this was the best holiday ever as I met some great people and see them only twice a year at cadet force music camps.
What is your greatest remaining ambition?
My greatest remaining ambition is to be the Senior Director of Music of the Household Division in the British Army and to be the Senior Director of Music of the British Army hopefully someday.
If you could spend a day with a celebrity whom would you choose?
Emmanuel Pahud as he is a top class flute player and when he plays its like magic. He also plays for the best orchestra in the world the Berlin Philharmoniker.
If you were stranded on a desert island what three things would you want with you?
Flute, my wee sister and my friends from cadets.
Favourite things
Car: Mitsibushi Evo X
Film: Black Hawk Down
Comedian: Lee Evans
CD: In the footsteps of the heroes by the Regimental band of the Scots Guards.
Book: Ant & Dec
Actor: Jim Carey
Actress: Angelina Jolie
Drink: Pepsi
Ulster Star
29/06/2012