Catherine McConkey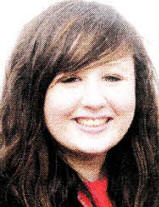 CATHERINE McConkey, 14, from Lisburn is a member of theatre company Fusion Theatre and would like to be a journalist and presenter just like her older cousin Donna Traynor. She attends St. Louise's Comprehensive College Belfast and recently spent a week on work experience at the Star.
What do you like doing on your day off?
Usually I am at Fusion Theatre on my days off for rehearsals but if not I tend to go out with g my friends, listen to music or go shopping in I Belfast with my friends when I get spare time.
If you were to choose your favourite meal what would it be, where and why?
Definitely a Chinese complete with chicken balls and chips at my friends house with all of my friends. We all tend to go to each others houses on the weekends, order a Chinese and have great fun.
What has been your proudest moment?
Winning The Gilbert and Sullivan Buxton Festival in Manchester with Fusion. We had done so much hard work all throughout the summer and finally getting to Manchester and performing on such a beautiful stage against so many fabulous companies was such an honour.
What was the most frightening moment of your life?
When I was in Disneyland Paris my dad convinced me to go on the Space Mountain Rollercoaster. I hate rollercoasters and I most definitely screamed the whole of the ride down. Though I must admit it was quite exciting at the same time and I did continue to get on the ride.
How would you describe your taste in clothes?
Quite vintage, I'm really into vintage fashion and I love to go into vintage stores and buying such unique and interesting clothes. I love old rock n roll band tshirts, cropped jackets, leather jackets, brightly coloured dresses and unusual jewellery.
What would you do if you won a million pounds?
I would give some money to Fusion Theatre, keep some money aside for university, buy a nice new house for my family, then more than likely spend the rest on clothes. I would like to think I would give some to charity and also to local projects.
What was your most embarrassing moment?
I was in Belfast with my friends and I sat down on a bright pink milkshake which had spilt all over the ground. The worst part was I never realised until I was going home meaning I walked around the whole day with pink milkshake all over me.
What music do you like?
I'm really into rock. My favourite band is My Chemical Romance. I love live music and going to concerts, the best concert I've ever been to was All Time Low in January. Though I do love Katy Perry and Lana Del Rey.
Describe your best ever holiday. What would your dream holiday be?
The best holiday I have ever been to was when I went to Florida a few years ago. It was amazing being in America where everything is so much bigger and better than anything I have ever seen before. My dream holiday is to go to New York to see all the famous land marks, shops and see a show on Broadway.
What is your greatest remaining ambition?
To study media, journalism or something alone those lines at university, travel the world and see all the sites, become successful with my worklife and family life and finally see Les Miserables on the West End Stage.
Favourite things
Car: Mini Cooper
Film: Wild Child
Comedian: Peter Kay
CD: The Black Parade, My Chemical Romance
Book: Harry Potter and The Chamber of Secrets
Actor: Colin Firth
Actress: Emma Watson
Drink: Fanta
Ulster Star
30/03/2012