Chris Grant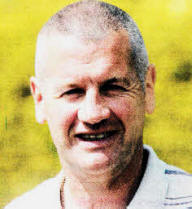 CHRIS Grant 52, is a volunteer pilot with Lisburn in Focus and will be taking part in the group's unique tandem cycling event starting at the Down Royal Racecourse, in partnership with Maryland Wheelers, on Saturday 16 June, 'It Takes Two to Tandem' is suitable for all tandem pairs, though specially designed to allow blind', and partially sighted people the chance to experience tandem cycling.
Chris works as an Emergency Medical Technician and served 18 years as a community firefighter.
What do you like doing on your day off?
Walk the dogs. I have to keep on the move.
If you were to choose your favourite meal what would it be, where and why?
My favourite meal has to be sausages with champ. My favourite restaurant is Mac Nean House in Blacklion.
What has been your proudest moment?
Crossing the finish line as part of a cycling team, at Malin head, after cycling from Mizen head. Over 400 miles in five days and raising £10,000 for a cancer charity for children.
What was the most frightening moment of your life?
When I was caught in a back draft in a fire in a derelict hotel. It blew me and my firefighting colleague off our feet as we ran for safety.
How would you describe your taste in clothes?
Used to be cool and trendy now comfortable.
What would you do if you won a million pounds?
Buy a house with a sea view.
What was your most embarrassing moment?
I had almost finished the bestman's speech at my brother's wedding when I realised the microphone was not switched on. The guests did not seem too worried.
What music do you like?
Anything that can be danced to.
What sports person do you most admire?
Lance Armstrong.
Describe your best ever holiday. What would your dream holiday be?
Best holiday was when I cycled in India Mysore to Kovalum, food people and scenery wonderful. My dream holiday would be a trip on the Orient Express.
What is your greatest remaining ambition?
To watch Antrim lift the Sam Maguire.
If you could spend a day with a celebrity whom would you choose?
Sir Alex Ferguson
If you were stranded on a desert island what three things would you want with you?
Matches, tent and company.
Favourite things
Car: Citroen 2cv
Film: True Grit
Comedian: Eddie Izzard
CD: The Joshua Tree
Book: To Kill A Mockingbird
Actor: Spencer Tracey
Actress: Deini Moore
Ulster Star
08/06/2012