Ciara McStravick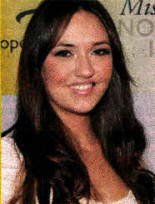 CIARA McStravick, 22, from Stoneyford recently won the title Miss Distill during the Lisburn Heat of Miss Northern Ireland. This will be the model's third time taking part in the competition which takes place on May 14 so let's hope it's third time lucky for the local girl.
What do you like doing on your day off.
I love going on road trips with my friends and going ice skating with my two sisters.
If you were to choose your favorite meal what would It be, where and why?
It would definitely have to be chilli chicken penne pasta from the Ramore winebar in Portrush. I love the atmosphere in the restaurant, the service is so quick and the food is tasty every time.
What has been your proudest moment?
I love darts so when I got to walk Phil Taylor on to the stage during the premiership darts on Sky Sports it was like a dream come true.
What was the most frightening moment of your life?
When my dad wasn't well and my family and I were thinking the worst. Thankfully he is ok now.
How would you describe your taste in clothes? ,
I love anything sparkly. I would say that I don't follow trends as they change through the seasons, I like to change my style with whatever mood I am in.
What would you do if you won a million pounds?
Take me and my family to New York and Las Vegas. Buy a new car and then save it. I like to be sensible with money.
What was your most embarrassing moment?
Far too many to mention.
What music do you like?
I like all types of music. Everything ranging from Celine Dion, Lady Gaga and Muse to Andrea Bocelli.
What sports person do you most admire?
Phil Taylor for continuing to work hard at his sport and also for being a really nice person.
Describe your best ever holiday. What would your dream holiday be?
Without a doubt it would be to visit New York. I have wanted to visit there for as long as I remember just to see all of the lights at night and for a bit of shopping too of course.
What is your greatest remaining ambition?
I would love to win Miss Northern Ireland and represent my country at Miss World.
If you could spend a day with a celebrity whom would you choose?
I would love to have Simon Cowell's job so I would choose him so that I could travel on a private jet and see what really goes on behind the scenes of his shows.
If you were stranded on a desert island what three things would you want with you?
My laptop so that I could keep in contact with friends and family and listen to music, an aeroplane and a pilot to bring me home whenever I wanted
Favourite things
Car: White Audi Q6
Film: Dirty Dancing
Comedian: Alan Can
CD: David Guetta
Book: Any Jackie Collins
Actor: Ed Westwick
Actress: Sandra Bullock
Drink: Coca-Cola
Ulster Star
11/05/2012