Colin Gregg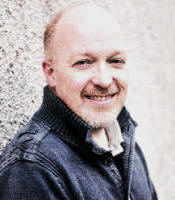 COLIN Gregg, 45, a computer programmer, is a cast member of Lisnagarvey Operatic Society which is staging The Sound of Music in the Island Hall from Tuesday April 24 until Saturday April 28. Tickets are on sale now from the Box Office on 9250 9254.
What do you like doing on your day off?
Eating, drinking, pub quizzes and watching football.
If you were to choose your favorite meal what would it be, where and why?
Lamb rogan josh in London after Leeds United had just won something at Wembly.
What has been your proudest moment?
Raising my two children.
What was the most frightening moment of your life?
It was when I thought I lost one of my children in the town centre.
How would you describe your taste in clothes?
Dependable.
What would you do if you won a million pounds?
I'd go into space.
What was your most embarrassing moment?
I was criticizing a friends choice of partner, having somehow forgotten that he was actually in the room.
What music do you like?
Everything from Elgar to E.L.O
What sports person do you most admire?.
Gray - he played midfield for Leeds and was never booked in his entire career.
Describe your best ever holiday. What would your dream holiday be?
My best holiday was a trip to California. My dream holiday would be a month long tour of Europe.
What is your greatest remaining ambition?
To go into space.
If you could spend a day with a celebrity whom would you choose?
Ray Mears (survival expert)
If you were stranded on a desert island what three things would you want with you?
A television, a satellite receiver and a generator.
Favourite things
Car: Ferrari
Film: Lord of the Rings
Comedian: Dara O'Briain
CD: Keane - Under the Iron Sea
Book: Lord of the Rings
Actor: Al Pacino
Actress: Judy Dench
Drink Bitter
Ulster Star
20/04/2012