Dan McAlinden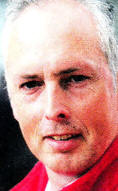 DAN McAlinden, 46, is a postman in Moira who braved the cold weather in his shorts as he completed his rounds in December to raise awareness of a condition which his son suffers from - Myasthenia Gravis (MG). He is married to Jenny and they have five children.
What do you like doing on your day off?
Sometimes I like to do nothing at all. Other times I like to get out exercising or hunting, a wee bit of fishing or shooting.
If you were to choose your favourite meal what would it be, where and why?
Nothing like a big Rib-eye steak with parsnip chips, other root vegetables and good company at The Tannery - great surroundings and beautifully prepared and presented food.
What has been your proudest moment?
Passing my driving test opened the whole world up for me.
What was the most frightening moment of your life?
Fearing that we were going to lose our youngest son Connor when he was at his most vulnerable with his illness Myasthenia Gravis (MG ),'Ragdoll Illness'.
How would you describe your taste in clothes?
Smart casual and quite hip with it too, if I do say so myself.
What would you do if you won a million pounds?
This ones easy - emigrate to Canada, buy a holiday home in France and never would I be cold or wet again unless I chose to be.
What music do you like?
Live music, from Morrissey to Mumford and Sons, or Abba to ZZ Top and everything in between.
What sports person do you most admire?
Rory Mcllroy, a great lad with so much potential and he hasn't lost control of himself and still knows where he's from
Describe your best ever holiday. What would your dream holiday be?
Costa del Sol on our first family holiday abroad, fantastic, boys where still under 12 at the time they had a ball. dream holiday now ....Jenny and me in a 5* in Bahamas.
What is your greatest remaining ambition?
To go to Canada from west to east coast, fishing and shooting along the way somewhere along the line.
If you could spend a day with a celebrity whom would you choose?
Hugh Fearnley - Whittingstall. We could have great craic talking rubbish and making up food from whatever .
If you were stranded on a desert island what three things would you want with you?
My wife Jenny because I couldn't survive without her, a wind-up radio and something to make infinite fire (I can't stand the cold).
Favourite things
Car: Landrover Defender
Film: The Great Escape
Comedian: Billy Connolly
CD: Morrissey, Bona Drag
Book: Bury my Heart at Wounded Knee
Actor: Tom Hanks
Actress: Helen Mirren
Drink: Jack Daniels and Coke
Ulster Star
23/03/2012